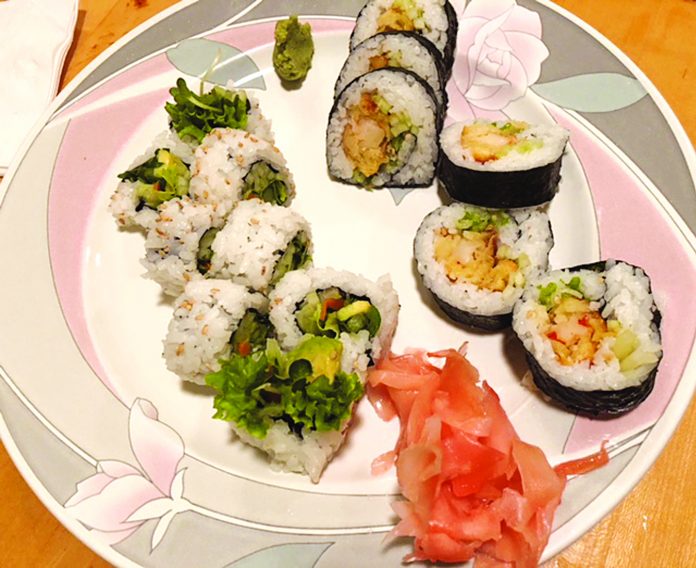 Are you longing for a low-key off-the-beaten-path spot to enjoy some Japanese fare?
For nearly three decades, Sushi Mashiko has made Culver City its home. The unpretentious, cozy eatery across the street from the West Los Angeles College entrance has been serving up sushi and other Japanese dishes to loyal patrons and tourists alike.
Warm greetings from the staff immediately upon entering allowed us to feel right at home. The casual décor with earthy colors, walnut chairs, and minimalistic style offered a relaxing refuge.
Working hard behind the sushi counter was the friendly chef and owner, Micky Harino, who borrowed the name of his restaurant from his hometown which is the tourist town of Mashiko, Japan, known for its pottery.
Having dinner late on a Saturday evening was a gratifying experience with available parking spots just steps from the restaurant and our choice of any table. We loved having the quaint eatery all to ourselves.
As expected, extensive sushi and sashimi options were not in short supply. The array of bento boxes piqued our interest. They are typically made up of rice or noodles, tempura, meat or fish in addition to vegetables.
Teriyaki plates of either salmon, chicken, or beef sounded inviting. A black cod teriyaki could be had a la carte. Deep-fried soft shell crab, green mussels and shrimp dumplings intrigued us.
Bowls made up of udon noodles with spinach, a boiled egg and shrimp tempura sounded equally as tempting. Chicken, beef or tempura bowls served over steamed rice were offered as well.
The wait time was minimal while we enjoyed our soothing hot sake, which Wikipedia claims is Japan's national beverage. The menu included a wide range of Japanese beers, cold and hot sake and wine.