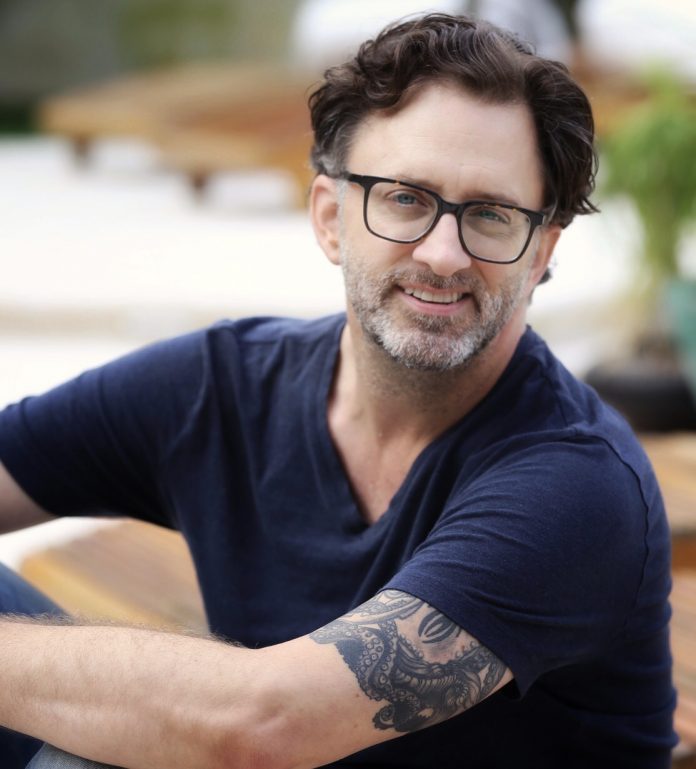 They say the first time is always the most exciting, and that's exactly what local artist David Craze is hoping for his debut solo photography gallery opening at The Whole 9 Gallery, 3830 Main St., Culver City on Sept. 14 from 6 to 10 p.m. The gallery, entitled 'Bridges and the Peace Between' focuses on the idea of bridges, and their ability to connect people and places.
"The purpose of a bridge, no matter how it looks, is to get you from one place to another. Don't be afraid to cross," Craze says.
It's rather fitting that this gallery is about crossing bridges, as this gallery itself is Craze, operating under the name 'DS Craze', crossing a metaphorical bridge in his life. Originally from Detroit, Craze moved to California in 2005 and settled in on a friend's couch in Culver City for six months.
After exploring the West Coast for a few years, Craze returned to Detroit for a few weeks in the summer, when he noticed a photography contest in the Detroit News. Craze, who had been messing around with a Sony Cyber-shot point and shoot camera, decided to enter the contest after much coaxing from his mom. To his surprise, he won.
"A victory I didn't see coming pushed me into shooting and exploring more," Craze remembered.
This gallery may not be visually appealing to some in the traditional sense, but that's just fine for Craze. He wants to shine a light on the idea that places and things that aren't considered aesthetically pleasing have their own unique appeal that can be drawn out with the right approach.
"[These places have] a peace if you will, and in that peace, there is a tragic beauty that everyone should see and experience," Craze explained.
"Even though there is that tragedy in the collapse of towns and businesses, those things aren't something to turn a blind eye to.  If we recognize that these places can still be turned into functional locations, instead of just abandoning them, you can save more than a place, you can save the people too."
Craze recognizes the magnitude of this gallery as his first showing to the public eye, and it's an opportunity he is not taking for granted.
"For my first exhibition to be offered as a full show was something I did not expect and once again, to be honest," Craze admitted.
Photography exhibitions are a big undertaking, something that Whole 9 knows quite well. Originally starting as a social networking site in 2007, Whole 9 has developed into a full-on gallery that is also used as a platform for humanitarian work.
This particular exhibition will be benefitting The Peace Project, an organization that collaborates on bold humanitarian efforts designed to change lives, inspire people to believe change is possible through unexpected collaborations, and help create environments where peace can flourish. They have undertaken many worthwhile projects, including the distribution of 10,000 pairs of crutches across Sierra Leone on World Peace Day 2011, the designing of a Peace Museum with the UN, and the master planning and rebuilding of a community in the Philippines after Typhoon Haiyan— including 40 custom-designed "instant" houses, plus a community center.
Currently, The Peace Project is helping to redesign an interfaith Peace Center in the West Bank and is mobilizing the citizens of At-Tuwani and the world's top Palestinian and international muralists to bring this village alive. Now through mid-November, artists will gather in this village and work with the citizens to paint the buildings and walls with Palestinian faces, patterns, animals, and iconography. Collectively, this will create a monumental expression of Palestinian identity to share with the world, and will show the world that Palestinians still have hope, and will ultimately provide a buffer against ongoing military aggression.
For Craze, the day he has the opportunity to present his work for the first time while supporting a worthy cause cannot come any sooner.
"Exciting doesn't really explain it," Craze says. "I've described it to friends as this; It's like being on a bobsled in the Winter Olympics but the run (the track of the bobsled) is on fire. It's been terrifying and exhilarating all at the same time."
"To have this opportunity is something I've wanted for so long."