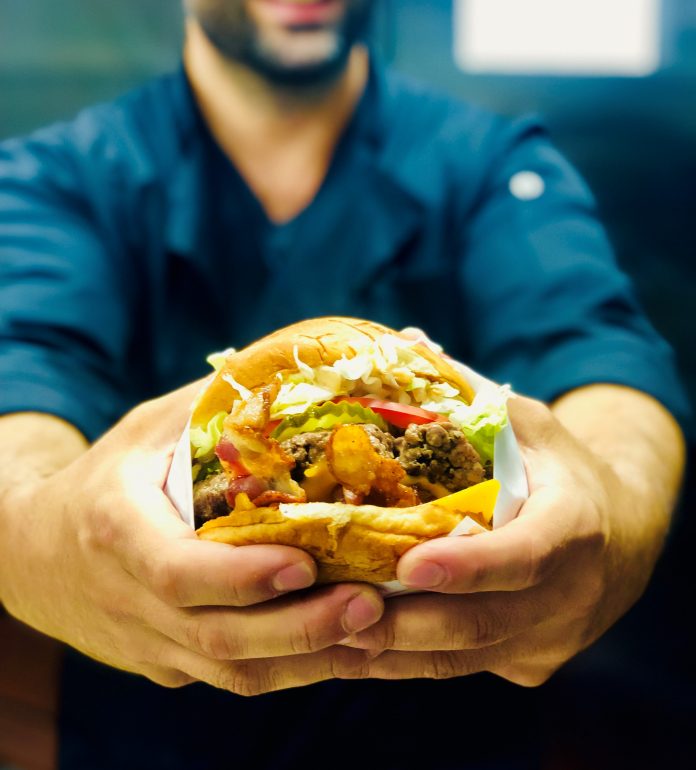 Community hub built-in historic building
brings 8 unique restaurants to Downtown
As the beginning of fall inches ever so closer, so too does the opening of the Citizen Public Market, a multi-tenant dining project in Downtown Culver City. Being built in the confines of the famous Citizen Publishing Company Building at 9355 Culver Blvd., the building is being turned into a food hub and community meeting place in downtown and will host a variety of unique restaurants.
Most recently, Citizen Public Market revealed three new tenants in Blue Nova, The Jolly Oyster, and The WEHO Sausage Co. last month, and they will join five other exciting food projects for Culver City residents to enjoy.
The Citizen's Publishing Company Building was built in 1929 for Eugene Donovan, the building's owner who also decided to publish a newspaper out of the building. This paper—aptly titled 'The Citizen'—became a highly respected publication, and even held a competition to come up with a potential name change for the city. While the Culver City name obviously stuck, the phrase "The Heart of Screenland" can trace part of its origin back to this very contest.
It was moments like this, as well as the unique blending of Beaux-Arts and Art Deco elements, that made the Citizen's Publishing Company building a member of the National Register of Historic Places in 1987. The building has mostly lied dormant until early 2017 when Rick Moses Development purchased the property.
"It came on the market and we could see right away that this was a very special historic landmark property," Rick Moses Development remarked. "We put in an offer within days of the property being listed for sale. We bought it because it was ideally located in Downtown Culver City and because we fell in love with the building."
Of course, there was plenty of work to be done to turn the old building into a community hub. Utilities needed to be upgraded to modern standards and the building itself needed some restructuring. Additionally, a patio was built in the back of the property, as well as a rooftop garden to give a more welcoming and artistic feel.
However, it was incredibly important to the developers that the unique historical elements of the building be preserved. In particular, Rick Moses was sure to emphasize the preservation of the front façade of the building.
Another part of the project that's just as daunting was gathering a worthy group of restaurateurs to occupy the building, but Rick Moses has been able to make arrangements to host eight unique establishments at the Citizen's Public Market.
"We have been painstaking in selecting the best chefs and restaurateurs in Los Angeles."
For the Citizen's Public Market, quality wasn't enough to grab a spot. On top of serving quality foods, Rick Moses selected some of the most one-of-a-kind and artistic projects to host at Citizen's Public Market.
"We wanted each concept to compliment the others in a way that a puzzle fits together to form a beautiful picture."
Of those eight tenants, six have already been announced. Nancy Silverton, the founder of La Brea Bakery, is taking on the casual dining world with her new restaurant 'Pizzette'. Chef Keith Corbin, known mainly as the executive chef at Alta in West Adams, will be embarking on a solo project of his own. His first restaurant will be called Louella's Cali Soul Kitchen, named after his grandmother Louella and daughter Cali.
The rooftop garden built by Rick Moses Development will be used as part of and a rooftop bar concept from Wade McElroy and Russell Malixi, the duo behind the magic of Good Housekeeping, Café Birdie and Horse Thief BBQ.
After popping up all around Downtown Los Angeles as the first premium dessert truck to serve made-to-order ice cream, Culver City natives Ki and Kye Park will be bringing their knowledge of sweet delicacies to Citizen Public Market and their first physical location.
The Jolly Oyster is a project driven by sustainable shellfish farming lead by founders Mark Reynolds and Mark Venus. Their location at Citizen Public Market will offer a direct, authentic, knowledgeable farm to table experience serving organic, sustainable and humanely raised oysters and clams as well as raw and cooked options.
The sixth project to be announced at Citizen Public Market is The WEHO Sausage Co., founded by Peter Tulaney, who was originally a clinical psychologist by trade. Tulaney simply couldn't find the authentic handmade sausages in California that were prevalent in his hometown of Brooklyn, so he decided to create The WEHO Sausage Co. to fill that gap.
Each of these projects was picked by the developers, who are truly driven to make Citizen Public Market the new social heart of Culver City. Shell improvements will be completed on the building in October, and while the official opening date is still being finalized with tenants, the Citizen Public Market will be open in fall of this year.