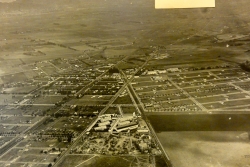 On July 22, we celebrate the centennial of Harry Culver's speech at the California Club in downtown Los AngelesThat evening, Mr. Culver announced his plans for our city to the well-established gentlemen's club.  A Nebraska native, Harry H. Culver was born in January, 1880, the middle child of five. His circuitous route to this area took him across the country and even included a stint working for the Manila Times in the Philippines. He arrived in California in 1910, where he "learned the ropes" of local real estate from I. N. Van Nuys.
Harry Culver went out on his own to establish Culver City halfway between the Story Building in Los Angeles, and Abbot Kinney's resort of Venice.  His early ads reflected "All Roads lead to Culver City."  An innovative promoter from his youth, Culver envisioned the potential of this acreage, the draw being the location, the temperate climate, accessible transportation routes and a land with a rich history.  His dream was to establish a balanced community for families with an economic base to support it.
This week calls for a sharing of what Culver was able to do within eight years of his speech.  The actual 1913 speech outlining his plans appeared in the Culver City Call on October 31, 1914, a little more than a year later, it was touting its relevance still!
Culver's speech is replicated in its entirety on the city website under Culver City history/Harry Culver.   Councilmember Jim Clarke will be HHC, giving the speech again at the California Club this Saturday, and you can see him locally on Monday, July 22nd at the Culver City Council meeting at 7PM!  You might be surprised and proud….how it is still relevant today!!!
This vintage photo is part of the Culver City Historical Society collection and can be viewed at their archives at the Veterans Memorial complex.
Photo Caption:  A close-up of a 1921 aerial photo of Culver City.  The city, which was incorporated in 1917, shows three major movie studios in place.  Goldwyn Studios (now Sony Pictures) is seen under the "Culver-Washington X" with its backlot area still adjacent to the studio above Overland Avenue.  Thomas Ince's second studio (now The Culver Studios) appears in the distance on Washington, and Hal Roach Studios is further east on the same boulevard. The city offices were located on the second floor of the first theatre then, on the site of what would become The Hotel Hunt, now The Culver Hotel.  The first city hall at Culver and Duquesne was completed later, in 1928.