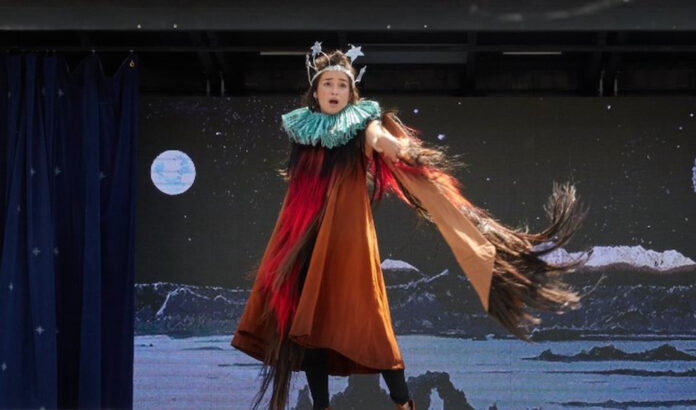 As we stand at the crossroads of life and gather as an audience once again, do we look to the past or towards a better tomorrow?  With its search for answers, Birds in the Moon, a mobile, theatrical chamber opera by Mark Grey and Júlia Canosa i Serra, directed by Elkhanah Pulitzer, receives its West Coast Premiere for four performances, Sept. 1 to 4 at 7 p.m., presented outdoors on Santa Monica's Lot 27, located at the corner of Arizona and 5th Street. 
Presented in partnership with The Broad Stage and Downtown Santa Monica, and supported by an Art of Recovery grant from the City of Santa Monica, Birds in the Moon takes place on a traveling, magic box – a fully transformable, self-contained, state-of-the-art shipping container, designed and built by container and set designer Chad Owens, which opens to create a stage, with LED screen, lights and sound system – and the top pops up to offer another playing area as well. 
Featuring Maria Elena Altany as the Bird Mother, Austin Spangler as the Ringmaster, and the Friction Quartet, with soundscapes, video projections by Deborah O'Grady, costumes designed by Christine Cook and lighting designed by David Finn, Birds in the Moon tells a story about migration and a search for a better world, drawn from a whimsical 17th century theory that birds migrated to the Moon, spent their winter there and came back to Earth where they would remain for the season. 
In the story, a weary yet persistent Bird Mother lands in a remote desert place, searching for shelter and water for herself and her child. There she encounters an aging circus Ringmaster and his traveling musicians, who live hand to mouth, entertaining passersby. Both souls seek escape from the peril of this dry desert, believing in the Moon as the answer to their plight. This quest seals their fate as they make a pact that leaves them each forever changed. 
Known for her bold, nuanced, and innovative stage direction, Elkhanah Pulitzer is a passionate storyteller and an esteemed director of opera and theater nationally and internationally. 
When asked about her vision for Birds in the Moon, she shared, "We had a number of ideas: the dearth of works with compelling, riveting and complicated female protagonists, being captivated with a show that could come out of a shipping container that could turn into a kind of travelling circus, reaching many different communities and audiences, and a fantasy of performing it in the desert. Magical realism is an inspiration. An entry point is that the Moon is a utopia without oxygen – the double edge sword of trying to seek a better life."  
Composer Mark Grey said, "Before COVID, Júlia Canosa i Serra and I began to think about developing a song cycle for a mezzo-soprano and a small ensemble that touched on some kind of social and political subject. The Syrian refugee crisis was in the news, so we were thinking about migration as well as thinking about human trafficking, as well as what happens at our southern border with families trying to send their children to a better place. It is a poignant subject, and we wanted to bring a subtlety to the message. 
At first the Ringmaster is selling trips to the Moon, which is fake. The Bird Mother wants to teach her child to fly to the Moon for a new life. To make that happen, she sacrifices her own feathers for her child, even though she doesn't know if it's for real as she's never been there."
All one has to do is look at the news taking place right now in Afghanistan, where parents are lifting their children over barbed wire fences into the hands of American soldiers, to know that this survival story and the dream of parents to secure a better life for their children is universal across all cultures around the world.
Birds in the Moon runs 70 minutes and is sung in English. Tickets and information available at www.thebroadstage.org, or via Patron Services by phone at (310) 434-3200 or email to patronservices@thebroadstage.org.  COVID protocols will be in place in compliance with the City of Santa Monica's current safety measures. 
Patrons are advised to arrive with a mask and proof of vaccination, and to follow safety instructions provided by staff on site. The Broad Stage encourages everyone who can to get vaccinated and asks patrons to please stay home if you are not feeling well.