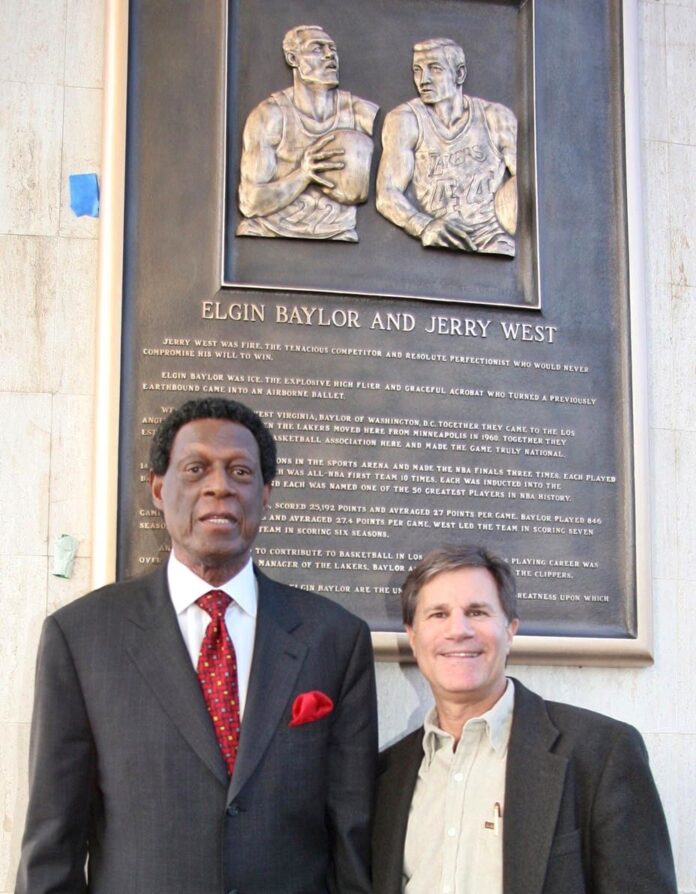 Former Culver City resident Ted Sobel dives into sports and entertainment history with a book that touches the soul of baby boomers, sports enthusiasts of all ages and historical entertainment buffs. His book, 'Touching Greatness' tells a spectacular story of sports and entertainment through the eyes of one of the top sports journalists and broadcasters in Los Angeles history.
Sobel credits his young years growing up in Culver City as a great foundation for his future success. He went to kindergarten through Culver Junior High School while living in Blair Hills. "I went to Linda Vista Elementary School in Blair Hills," said Sobel. "That school is not there anymore, but they were special times."
What is still there is Blair Hills Park where Sobel dreamed of being a great athlete. "We could not wait to hang out with coach Dennis Fox at Blair Hills," said Sobel as you hear the excitement in his voice as he remembered the park. "He was such a good guy. He really helped us out. I lived at the park. I was there every day after school.
"After school, we used to walk to the park which was right around the corner from the school. Most days, I was at Blair Hills until it was time to go home for dinner."  Sobel played baseball and basketball at the park. "We played home run derby, over-the-line and I loved to shoot hoops. There was a time when I would regularly shoot 100 free throws before I would walk home–usually settling for nothing less than 80%."
When he was at home, he could not wait for the Helms truck to pass through his neighborhood. "On that truck were some of the best glazed donuts," said Sobel. "My big nose could smell them a mile away."
Some other highlights for Sobel growing up in Culver City were going to the Helms bakery stores (including a great school field trip), riding his bike past the MGM Studios (and jumping the fence once), and playing Little League baseball up on the Hill at old Ron Smith Field. There is a picture in 'Touching Greatness' of Sobel in his Culver City Little League uniform. He also won a ping pong championship as a 12-year old, competing in the park system that he loved. And Ted proudly shares many of his favorite restaurants and Westside hangouts of the 60s in a special tribute chapter called "The Culver Years–A Retro Platter of Ballparks, Screenland & Comfort Food." 
After 10 years in Culver City his parents, Bernie and Sherry moved the family to the Fairfax district where he attended Fairfax high school as a tenth grader. It was there he started to truly touch greatness. He lived in the same neighborhood as former Lakers great, the late Elgin Baylor and he and Baylor became friends. 
"While Baylor was still a Laker All-Star, and while driving me to a game with his wife she asked me, 'What do you want to do with your life after you finish school?' I said I wasn't sure, but I would like to be an NBA player. Elgin started laughing, I guess because I was a 5'6" white kid who could not jump very high."
As the conversation continued in the car, Baylor and Sobel discussed a great idea. "He said if you can't play the game, maybe you can talk about the game," said Sobel. "That was the first time I really started thinking about being a broadcaster and journalist. And it stuck with me from then on. And Elgin of all people gave me my first interview. How great is that."
The rest is history. After college at LACC, Sobel was one of the first sports broadcast journalists to do TV play-by-play of local high school games of the week in the early 1980's soon after returning from Wisconsin where he called University of Wisconsin Badgers hockey games and two 'Miracle on Ice' Team USA games. 
Back in Los Angeles, he broadcast games for UC Irvine and Long Beach State football and basketball until he landed his dream job, working for the three top news and sports stations in Los Angeles, KNX, KMPC, and KFWB.
"I worked at KFWB from 1993 to 2016,' said Sobel. "I was fortunate to be the only one at the station to last through four different radio formats. Working at KFWB was really exciting. I grew up listening to the station when they were No. 1 in the land, and now I was working there. It was great. I still have my first paycheck stub remembering how excited I was. It took me a long time to make it to the top stations in L.A., and well worth the effort."
It also took Sobel a long time to write 'Touching Greatness'. He started putting together the book in the early 2000's.  "I began it all with writing down random notes on blank sheets of paper. I would scribble them down and throw 'em in a drawer next to my bed. It was a major commitment — and I wasn't about to stop until being content with every written word." 
"And now I get to share with the readers complete chapters on covering the entire careers of Kobe Bryant, Tiger Woods, and so many other stories about the over 750 Hall of Famers that I've personally encountered in my life."
'Touching Greatness' is now available on Amazon