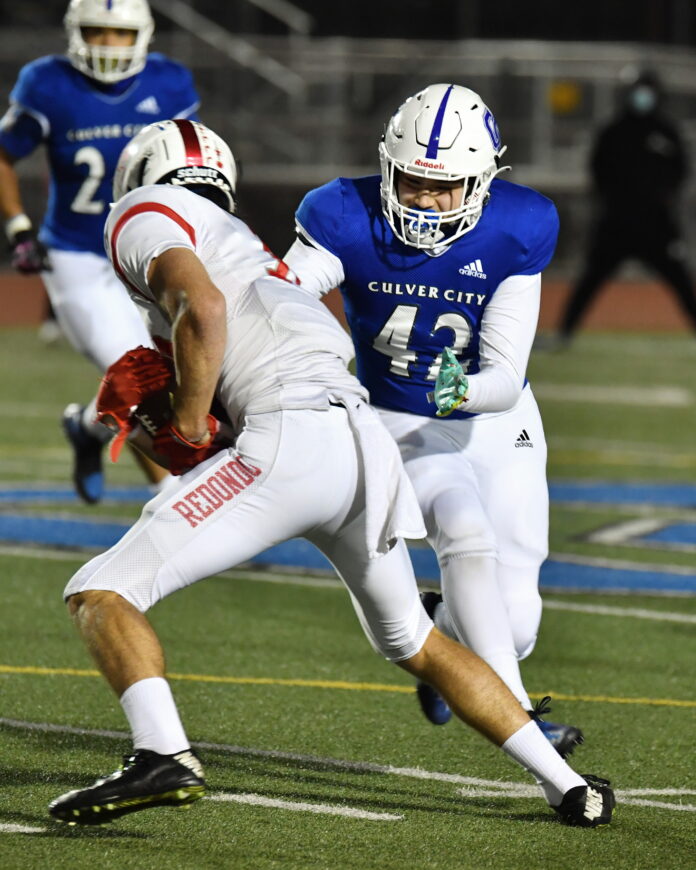 It's that time of the year. Fall is fast approaching and the leaves on the trees will be turning brown and brown is the same color of a football. Football is back in the fall after missing the 2020 fall season due to the pandemic.  
Culver City High School kicks off their 10-game regular season this Friday against the West Torrance Warriors on the road at 7 p.m.  The Centaurs have a lot of shoes to fill, and they are hoping some of the younger players can step in and replace two All-State players and several other outstanding seniors who graduated.
 "We are unpolished," said Culver City's long time head coach Jahmal Wright after a scrimmage game last week against Bishop Amat at Culver City. "We still have some kinks to work out, but we do have talent. We have a lot of new parts, so we have to rely on our veteran players. I am encouraged."
The offense right now will be led by junior running back Deshunn Powell and one of the biggest offensive lines in school history. Two of the returning veterans on the line are three-year starter, 6'4, 320-pound junior, Mason Merriwether and 6'6", 315-pound senior, Bryce Williams. "We are going to lean on the offensive line," said Wright.
The offense is also working in a new quarterback, freshman Alonzo Esparza and according to long time Centaur coach and player Greg Goodyear, Esparza will be the first true freshman varsity quarterback to start a season opener in Culver City history.
On defense, the Centaurs will be led by senior linebacker Aaron Salas. The defense will have a lot of news players but linebackers coach, Cornell Myles has a lot of faith in the defense. "We are young and scrappy. We are going to take what we have right now and do our best. We have a lot of good players this season. Things are looking good right now."   
Myles is really excited about the offensive line. "It's real important right now to have a good offensive line because that's going to take pressure off the new quarterback. Now we can eat the clock up and control the line of scrimmage. It's a blessing to be able to do that."
Myles knows there is no substitute for hard work. "We are training everyone right now to get better. We want our players to know if someone gets hurt the next player has to step up. We have a lot of young players that can step up."
West Torrance will be a good test for the young Centaurs. "They have a new coaching staff, so I really don't know what to expect," said Wright. "Whenever you have a new coach, they have a new way of doing things."