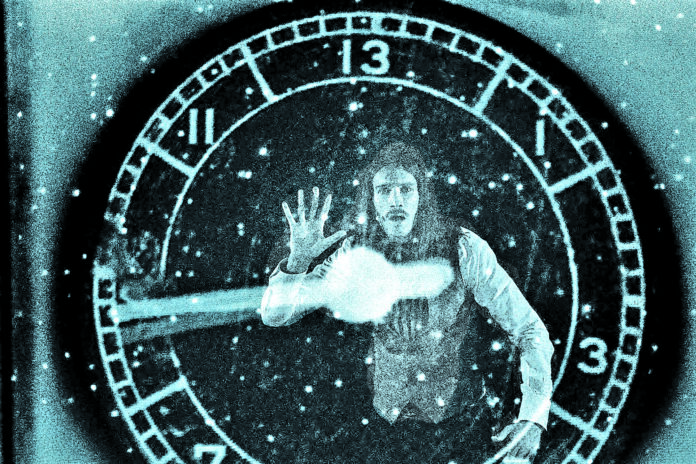 CAGES, created by Woolf (CJ Baran) and The Wondershow (Benjamin Romans), combines immersive theater, Andrew Lloyd Webber musicals, 1920s German Expressionist films such as "Metropolis, "The Cabinet of Dr. Caligari," and a bit of George Orwell's "1984." Their extraordinary creativity led them to create this multimedia combination of theatre, film and music into multi-dimensional worlds which collide and combine, blurring the line between reality and the dreams imagined in your mind.
After entering the site-specific location in the downtown L.A. Arts District, audience members are welcomed to enjoy adult beverages in two cocktail lounges, one with an enormous tree in the center, around which non-speaking cast members carrying lanterns come and go, paying homage to the black arrow stuck into its base as well as the lock hanging on its side. How curious it all seems to be. So begins the experience of wonder, enchantment, love and heartache in Anhedonia, a dystopian city where emotions have been outlawed. The world is one of black and white, where citizens' hearts are locked away in cages. The sky is overcast and gray, and if anyone shows any sign of emotion they are quickly taken away and reprogrammed. Soon we are invited into the love story between Woolf and Madeline, two single people who fall in love when the very emotion they are lucky enough to experience is forbidden to be felt. You see, it's happening in a place where we are reminded it's as dark in the grave as it was in the womb, so why bother to try to live in the light in between? My question is, "why not grab all the joy we can when the opportunity presents itself?" But that is not the world allowed in this futuristic, highly controlled world. An observation made stating, "We were locked away and our emotions were forbidden as we wondered if we were sick or sane," certainly brought to mind what it's like to be locked away during the current pandemic outbreak as fear and confusion brought on by isolation induced those same feelings.
Be prepared to be drawn into sensory overload as you explore what it means to be human when faced with man's inhumanity to itself, in whatever form that may take based upon where you cast your allegiance. The show is a mind-bending, technological spectacle that truly must be seen to be believed. Presented in a proscenium movie theater setting, the world of "Cages" is told through the use of projection mapping, backlit screens, and a top-notch sound system which allows you to not only hear, but FEEL the intensity of the rebirth of human emotions in what I can best describe as a modern, multimedia rock musical. Projections create a 3D effect between the two screens, which allows Woolf to become enveloped in situations both heartwarming and death-defying. Throughout the show he interacts with a small group of supporting players, but mostly performs alone against projections and images on the screens surrounding him. And all the while as he appears and disappears, Baran as Woolf is singing live onstage in perfect timing with each visual experience in which he appears. Even Madeline is only seen via projection, and yet when they reach out to each other, the two lovers appear to be connecting on a real physical level.
So, if you are ready for a magically surreal theatrical experience that will leave you in awe of where technology is taking us, go see "Cages" at a built-out warehouse specifically created to house this pushing-the-boundaries-of-reality experience. "Cages" was originally opened in 2019 with a month of sold-out shows. But like the rest of the Los Angeles theatre world, the production had to shut down in 2020 due to the pandemic. And now with the return of the production continuing into 2022, tickets are being slowly and deliberately released, relying on word of mouth and social media to market. Tickets are priced from $85 per person, with all attendees (over 21 only) needing to be fully vaccinated and wear a mask during the show. Performances take place at 1926 E. 7th Place in Los Angeles, Calif., with onsite valet parking or local Arts District area street parking available. Audiences are limited to 140 people, with no admittance at the door without prior reservations, available at CAGESDTLA.com.
Don't wait – all shows sell out.