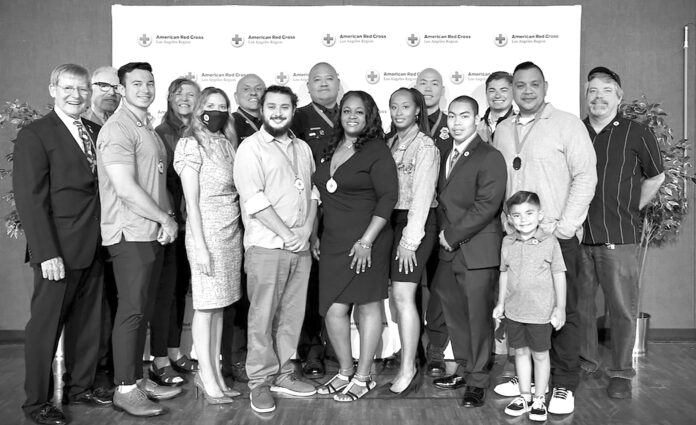 From performing CPR when a stranger collapses at a community gym to pulling someone from a burning car or home, our city is full of brave and courageous heroes. On Thursday, May 19, the American Red Cross Los Angeles Region honored community heroes who have demonstrated extraordinary acts of courage and humanitarian service at its 17th annual Hometown Heroes Ceremony. Among these 12 individuals who jumped into action in a moment's notice without hesitation – there were two "heroes" from the Santa Monica area. For 16 years, the Red Cross has celebrated extraordinary acts by ordinary people who have saved lives; made significant positive differences in their community in the areas of emergency response, disaster preparedness, and prevention; or exemplified the Red Cross mission in some other way. "We are living through a time when the average person is being called upon to carry out acts of great heroism," said Amy Papageorges, Executive Director for the American Red Cross Greater Long Beach and South Bay Chapter. "We are one community together – living and protecting one another. We are excited to honor some of these individuals today." The awards luncheon is made possible by the generosity of sponsors including Marathon Petroleum, AES Corporation, BRAGG Companies, Total-American Investment Company, Toyota, AALRR, Acrisure-Busby Stone Risk Management, Braden Phillips, California Resources Corporation, Fast Lane Transportation, Jean Bixby-Smith, JHS CPAs, NRG, Phillips 66, Port of Long Beach, Scaffold Solutions, SoCalGas Company, Watson Land and Wesco. The following are the individual heroes' stories:
Jose Barron and Anthony Diaz
The two employees of the Santa Monica Community Recreation Division witnessed an off-duty city police officer suffer a cardiac arrest at the Memorial Park gym. They dialed 9-1-1 and, relying on instructions from dispatcher Joanna Worgen, initiated CPR and used the defibrillator. The victim was unconscious when paramedics arrived but was breathing and displaying a pulse. He was transported to a hospital and released a week later. For their efforts, the pair received a Santa Monica Fire Department's Citizens Award.

Nathanial Burch
When David Burch of Lakewood suffered a serious heart attack, eldest son Nathanial got an opportunity to put his recently acquired EMT certifications to the test. For more than 10 minutes, he took his father's vitals while performing chest compressions as David's condition worsened. The EMT crew arrived, and it took six attempts with the defibrillator before David regained a pulse. The oncall deputy for the L.A. County Sheriff's Department credited Nathanial with saving his father's life.

Andres Alonso
Andres is being honored as the Red Cross' Veteran Hero for his service and bravery as a Marine during the Vietnam War. A native of Puerto Rico, Andres moved to New York at age nine and enlisted in the Marines eight years later just as Vietnam was intensifying. Once stationed there, he repeatedly risked his life to help save fellow comrades. His battalion, nicknamed The Walking Dead for its high casualty rate, endured the war's longest sustained combat. Following his four-year stint, Andres served as a detective and undercover officer focused on narcotics until retirement in 2001. The Red Cross was born on the battlefield out of a need to support Civil War soldiers wounded in combat, and Andres nobly carried on the tradition.

Monique Champagne, Shayla Jackson, Hunter Collins
Monique, an airline employee, and passengers Shayla and
Hunter, who were awaiting a boarding call at the Long Beach Airport, noticed a man in his 60s falling and suffering from a large head cut. Monique deployed a defibrillator to Alton Corona, while Shayla and Hunter successfully applied resuscitative measures. The three performed CPR until an emergency vehicle arrived and transported Alton to the hospital, where his vitals were assessed as good.

Bali Fedalizo
Bali and his family were enjoying a day at the beach when his 10-year-old cousin was yanked underwater by an undercurrent. The San Pedro High School student swam out, pulled her to the shore and successfully applied rescue and first-aid techniques learned from his Boy Scouts troop.

William Basulto
The Pasadena fire captain from Alhambra was off-duty and enroute to a Rams game when he spotted smoke. He arrived at the burning house to find a woman, 56, trapped on an upper floor that was quickly filling with smoke. William instructed neighbors to find him a ladder and aim their garden hoses at the fire, then rescued the woman and one of her three dogs as the home was completely gutted. The two other pets perished.

Jorge Grajeda
The Long Beach Police Department officer was off-duty at a relative's house when he spotted thick black smoke billowing from a neighbor's home. Assuming the elderly resident was in it because a car was parked in the driveway, Jorge rushed into the place that was engulfed in flames. Pushing open the front door, he called out but received no response. He entered the house and went room to room, finally finding a woman. She declined his urging to evacuate but, when the Montclair Fire Department arrived, Jorge and the crew escorted her to safety. The fire was extinguished.

Richard Montejano
When Margarita Medina pulled into a gas station, her vehicle slammed into a propane tank refilling spot. The tank erupted into fire, trapping Margarita. The heat was so intense that bystanders were hesitant to approach the car. As a few minutes passed and smoke entered the car, overcoming Margarita, Richard and other rescuers broke the rear window, enabling them to yank the back door open. They pulled out Margarita, who had minor injuries, and got her to safety. The fire department arrived and put out the fire