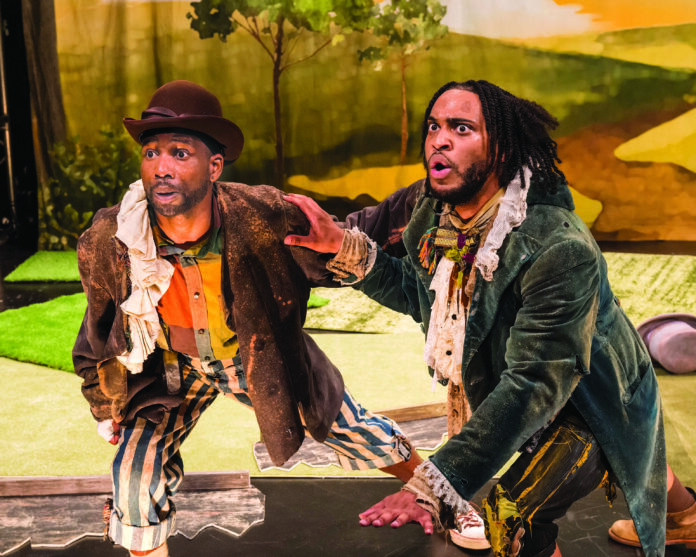 The World Premiere production of Dave Harris' "Tambo & Bones" continues through May 29 at the Center Theatre Group's Kirk Douglas Theatre in Culver City. A co-production with Playwrights Horizons, this explosive new work from one of the country's fastest rising playwrights is directed by Taylor Reynolds. This recipient of an Edgerton Foundation New Play Award features W. Tré Davis, Tyler Fauntleroy, Tim Kopacz and Alexander Neher in the cast.
At first, Tambo and Bones are two characters trapped in a minstrel show; and it's hard to feel like a real person when you're trapped that way. Their escape plan: get out, get bank, and get even. A rags-to-riches hip-hop odyssey, "Tambo & Bones" roasts America's racist past, wrestles America's racist present and explodes America's post-racial future—where what's at stake, for those deemed less-than-human, is the fate of humanity itself.
Broken in to three scenes, W. Tré Davis and Tyler Fauntleroy morph from Minstrel Show entertainers making fun of themselves while begging for quarters from the audience, hoping to turn them into dollars and dreams, into urban-in-chains hip hop singers, and finally into an uncertain future where Tim Kopacz and Alexander Neher portray the duo's newly created robotic entertainers. Each scene seems to ask questions that cannot be solved on how to progress forward in a world where even the best are still judged by the color of their skin first. And all along the way, comments about how to grow without being greedy or playing both sides of the coin to get ahead are brought into focus using examples from the past, present and future.
And trust me, you are supposed to feel weird about what the two characters are attempting to convey, perhaps even a bit offended at times. And no doubt, every performance will be different given how audience members are asked to interact, given our own circumstances in life. This show may not be for everyone – and then again, perhaps it really is.
The 90-minute production runs without an intermission, except on the night I attended when the fire alarm system went off at the beginning of the second scene due to all the smoky haze released to accentuate the lighting during the hip hop scene. This was the first time I ever had to be evacuated from a theater during a show, and at first, I was really convinced the entire thing was part of the performance, challenging us to take the show into the street. But it was not; and merely created an unplanned intermission down the block at Starbucks, giving audience members a chance to talk to each other about the show and what was really going on. I just kept looking for the two actors to appear and walk us over to the Culver Steps to keep the show going. Wishful thinking, I guess!
The "Tambo & Bones" creative team includes Stephanie Osin Cohen (scenic design), Dominique Fawn Hill (costume design), Amith Chandrashaker (lighting design), Mextly Couzin (lighting design), Mikhail Fiksel (sound design), Justin Ellington (original music) and J. David Brimmer (fight director) with Marcedés L. Clanton as the production stage manager. No doubt she had quite a challenge keeping things together that night, and I respect the actors and crew for being ready to absolutely start again as soon as the audience was welcomed back inside the theater as firefighters were walking out.
"Tambo & Bones" performances run Tuesday through Friday at 8 p.m., Saturday at 2 p.m. and 8 p.m., and Sunday at 1 p.m. and 6:30 p.m. Tickets start at $30, available through CenterTheatreGroup.org, Audience Services at (213) 628-2772 or in person at the Center Theatre Group Box Offices (at the Ahmanson Theatre) at The Music Center, 135 N. Grand Avenue in Downtown L.A. 90012 or at the Kirk Douglas Theatre at 9820 Washington Blvd. in Culver City 90232. For the time being, Center Theatre Group will continue to require masks, along with proof of full vaccination, and a government- or education-issued ID at all of our venues. Booster shots are strongly recommended.
And don't forget, tickets are now on sale for the 2022 Hollywood Fringe Festival taking place June 9-26, with previews beginning June 2. For a complete schedule of shows, location information and tickets, visit https://www.hollywoodfringe.org