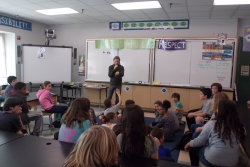 The sixth grade students at Echo Horizon School are immersed in a water challenge, Discovery Education's "Explore the Blue Water Challenge."
The challenge is to identify a local waterway or water-related issue in their community, conduct research, develop an action plan to generate positive change, implement the plan and then showcase their project in a two- to five-minute video.
In preparation for their water projects, the students watched an award-winning documentary from 2008 called FLOW – For the Love of Water.
In this film, leading experts discuss what they have labeled as the leading environmental and political crisis of the 21stcentury – The World Water Crisis.
Executive Producer of FLOW and a well-known environmental activist, Stephen Nemeth, recently paid a visit to the sixth grade science class to talk about his film, his passion for 'green living' and his "obsession with the waste of water."
The students listened to him share stories and were able ask questions about their own projects.
"Stephen Nemeth really inspired our class," said Daniel K., a 6th grade student. "I've never seen some of my classmates so engaged in these types of discussions before, such as when Steve talked about the damage caused by cigarette butts to our water system."
For their challenge projects, the students formed teams of 3-4 students and for inspiration and ideas they took a trip to Sid Kronenthall Park, where there is an entrance to Ballona Creek.
One group will be doing their project on Macarthur Park, an area of L.A. they believe many people have given up on.
The group will test the park's lake water, build a filtration system and then with approval from Los Angeles Parks and Recreation, build a rain garden and use the fileted water to irrigate the garden.
 "We hope that people from the community will volunteer to upkeep the garden," said group member Robert C.
Another student team will be looking at the process for reporting clogged storm drains and determining how many people really care about our water systems.
 "We will also be testing the water from Ballona Creek and comparing it the to tap water in our school," said ixth grader Denia.