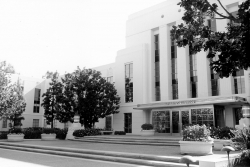 This year marks the 85th Academy Awards ceremony. An "Oscar" is the Academy Award given for artistic distinction in filmmaking.
The Oscars have particular relevance to Culver City history, not only because it is "The Heart of Screenland," but M-G-M studio chief, Louis B. Mayer was integral in establishing the Academy of Motion Picture Arts and Sciences.
It began as three of Mayer's guests at an early January 1927 dinner at his home, (actor Fred Niblo, director Conrad Nagel and a producer, Fred Beetson), began a discussion to organize a group to benefit the film industry.
The Academy history lists Jan. 11, 1927 as the date 36 people met at the Ambassador Hotel to learn about a proposal for what was proposed as an  "International  Academy of Motion Pictures Arts and Sciences."
The "International" was dropped shortly thereafter. The attendees' names included Mayer, Pickford, Grauman, Lasky, Cohen, DeMille and Thalberg.
The Academy of Motion Picture Arts and Sciences was incorporated in May 1927. The following year, Mary Pickford referred to the Academy as "the League of Nations" of the motion picture industry.
In case you are having an "Oscar Party" trivia is always helpful!  The Oscar is made of gold plated Britannium and "he" stands 13.5 inches tall.
The famed Oscar weighs in at 8.5 pounds. The statuettes have been numbered since 1949, beginning with #501.
The Oscar was designed by famed M-G-M art director, Cedric Gibbons. He was M-G-M's art director in 1928 and his famous work has not been altered, except for the higher pedestal in the 1940s.
Just to be accurate, I should add that in the eighth decade of Oscar, a new mold was made to facilitate the sharp image originally sculpted by George Stanley.
The first Academy Awards ceremony was held on May 16, 1929, at 8 p.m. in the Blossom Room of " The Hollywood Roosevelt Hotel."
That year, Oscars were given in 12 categories. In 1934, a miniature statuette was awarded to six year old Shirley Temple, who made 9 features that year.
After the initial Awards event at the Hollywood Roosevelt, the ceremonies have been held at various locations through the years including the Ambassador Hotel, the Biltmore Hotel, Santa Monica Civic Auditorium, the Shrine Auditorium and the Kodak Theatre/Hollywood & Highland Center.
The nickname of the coveted Academy statuette can be traced back to the first decade of its existence. There are three people credited with the nickname, many feel the most plausible originator was the Academy Librarian, Margaret Herrick, who suggested it looked like her "Uncle Oscar."
For more information, 80 Years of the Oscar, the Official History of the Academy Awards, by go to www.Oscars.org, the official AMPAS site.