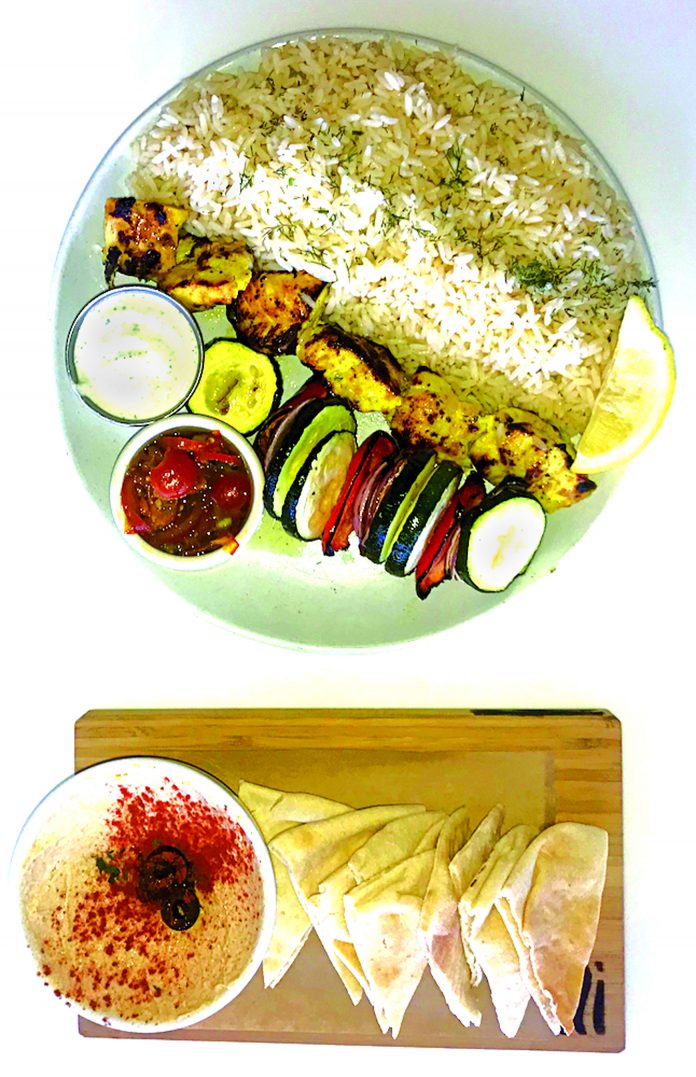 Just across the street from the soon-to-be Culver Steps in downtown Culver City is a fine place to go for kabobs called Grilliant, which was recently featured on CBS 2 Los Angeles. The smoky aroma of the grilled meat lured us in as did the friendly vibe.
The fire-grilled chicken kabob plate we ordered arrived quickly and came complete with shiny silverware and a glass of ice water. Fire grilled salmon, turkey, and shrimp wraps are available as well as a variety of quinoa, kale and other green salads. The casual atmosphere was not lacking in homey touches.
The meat was succulent and flavorful with chunks of red pepper, zucchini, and red onions. The website calls it a "fusion between the Mediterranean and Middle Eastern flavors." Slices of homemade pita bread and creamy hummus sprinkled with paprika and olives were noticeably fresh and so delectable.
The yogurt dip offered on the side tasted absolutely heavenly on both the chicken and vegetables.
There is something mouthwatering about the unmistakable flavor of the seasoned grilled meat. Up to 95 percent of what we think of as meat's taste is surprisingly its aroma, according to Barb Stuckey, author of "Taste: Surprising Stories and Science About Why Food Tastes Good."
Smoothies featuring only organic fruits, vegetables, and dairy can at times be difficult to find but thankfully they abound at Grilliant. The weekend-only breakfast features unique options like waffles flavored with vanilla and rose, herb frittatas and a Persian sausage and potato dish to name a few.
Chocolate souffle, pistachio ricotta cakes, and chocolate covered strawberries sound wonderfully tempting. A variety of beer and wine are offered.
Happy hour features your choice of bacon-wrapped filet with chipotle aioli dip, hummus duo, spicy deviled eggs, charred chicken lettuce cups and shrimp mini naan which are served from 3 to 6:30 p.m. for only $6.