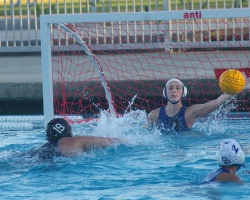 Young and eager to improve, the Culver City High School girls water polo team is staying afloat this season in anticipation of swifter strokes and powerful play for the next two years.
"We have a lot of sophomores," Culver City head coach Nestor Dordoni said. "We're hoping to get a summer program. That will help a lot."
The Lady Centaurs (10-11 overall) had their first match in the new Redondo High Swimming Pool, which opened a month earlier than projected. The young Lady Centaurs found the venue miserable, losing 11-4 to the Seahawks after taking a 3-2 halftime lead. The more physical and experienced Redondo squad proved too much, however, outscoring the Centaurs 9-1 in the second half.
Sophomore Ruth Bursurto sparked the Centaurs by scoring three of the team's four goals. Bursurto had an assist and a steal. Senior Annie Hwang added a goal and two assists. Sophomore Olivia Valdez had three steals and an assist.
The Centaurs had wins over Venice, Birmingham and Glendale Hoover, and fell to Marymount High. The squad split contests with Santa Monica.