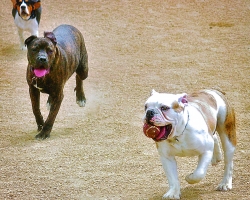 Tails are wagging, balls are being chased and a good time is being had by all. The long-awaited return of the Boneyard is finally here. Grand re-opening festivities will be held Saturday, March 12 and Sunday, March 13.
According to Vicki Daly Redholtz, member of Friends of the Culver City Dog Park, "We're going to be greeting people and there will be drawings to win some great gift certificates on Saturday and Sunday, 9 a.m. to 4 p.m. Admission to the park is free, but suggested donation for the drawing is $5 per ticket. Dogs and people (with or without their dogs) are welcome. "
Prizes include $50 gift cards from Rush Street, Gyenari and Joxer Daly's; $100 gift card from Doggie Central; A pair of gift cards from Hair Traffic; and a $25 gift card from Bam Bam and Friends.