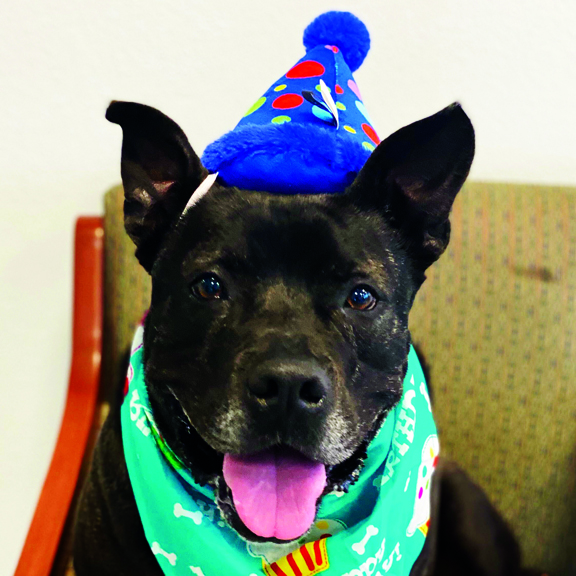 Melvin, a dark coated Pit Bull mix, celebrated his third birthday at spcaLA. While he remains in good spirits about getting older, enjoyed a virtual birthday party, and happily gobbled down birthday cake, he has spent a year at the shelter and wishes for a forever home. Melvin is available for adoption by appointment by visiting spcaLA.com/COVID19.
While with spcaLA, Melvin has learned many tricks and skills like sit, down, hand target, place training, loose leash walking, fetch, roll-over, and paw. He enjoys being around people, and is just as content to lay by your feet as to chase a ball. He enjoys going for walks, rolling in the grass, splashing in a kiddie pool, and chewing on bully sticks.
Despite all his talent and good humor, no one has given him a chance at a real home. "We want Melvin to have the gift he deserves during these uncertain times: a loving home and forever family," says spcaLA Animal Behavior & Training Specialist, and Melvin's champion, Skylar Maldonado.
Melvin's biggest challenges at finding a home may be the two things he cannot change: the color of his coat and his breed. Melvin's adoption fee has been sponsored by a spcaLA Volunteer, but any potential adopter must meet spcaLA's adoption requirements.
For his birthday, Melvin enjoyed a delicious birthday cake that he shared with his homeless doggie friends at spcaLA and Long Beach Animal Care Services
Contact spcaLA to meet to Melvin – you may be the one he has been waiting for!
For more information or to schedule an interview, please contact spcaLA at 323-707-1271 or abustilloz@spcaLA.com.