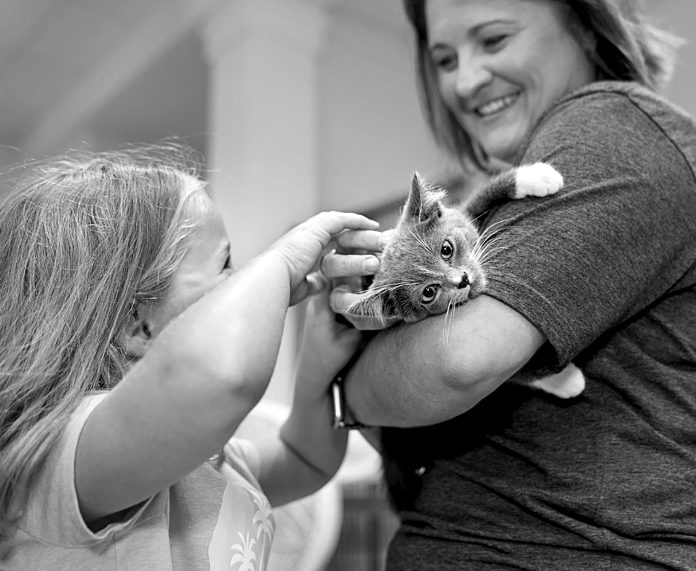 According to the American Society for the Prevention of Cruelty to Animals, of the more than 6.5 million animals that enter shelters each year, only 3.2 million of them are adopted, meaning less than half of those animals find their way into stable homes. Ting Internet hopes to increase those adoption numbers.
Ting Internet, an internet service provider with branch- es all over the United States called Ting Towns, has partnered with Culver City-based I Stand With My Pack (ISWMP), a global non-profit organization that focuses its local efforts on the successful removal of dogs from Los Angeles City and County high-risk shelters and through assisting them in the rehabilitative process, helps them get successfully placed into a loving home.
"In Culver City we are partnering with I Stand With My Pack because we're very much involved in our local community and this is an organization that's based out of Culver City," said Maja Jeremic, Ting Internet's Community Engagement & Public Affairs Manager. "We deeply believe in investing in the communities that we operate in and giving back."
In addition to helping shelter animals get placed in loving homes, ISWMP also created an international platform to raise awareness through field work, education, fundraising, disaster relief, non-violent protests, and legal action. The goal of ISWMP is to create global long-term solutions in order to create a more humane world.
Ting Internet's involvement with ISWMP's pet adoptions is part of a larger campaign that is going on in each of the company's 13 Ting Towns, including Culver City, that began on July 1 and will run until August 31. As part of the campaign, Ting will donate $50 to the ISWMP Shelter for every new customer the ISP gets. Additionally, each new Ting customer will receive a free standard installation and two free months of service.
Jeremic said that the other 12 Ting Towns have implemented pet adoption events and volunteering opportunities and currently the company is looking to implement the same activities in Culver City.
"We have a national team that works on selecting our giving back campaign and their teammates have been so happy because of the furry friends they have made through pet adoption and animal shelters and they just wanted to help the Culver City community members do that as well," Jeremic said.
Currently, Ting Internet is offering pet owners a chance to win prizes through their website.
Pet owners are encouraged to share a photo of their adopted pet along with their adoption story. Each photo/story will be entered into the Ting Pet Voting Contest. Ten photo finalists will be selected August 7 and anyone interested can vote for the their favorite photo/story. The photo/story with the highest number of votes on August 29 will win a $250 gift card to a store such as Amazon or Target. Public voting will be open beginning August 8.
ISWMP's website at istandwithmypack.org, offers helpful tips to those interested in adopting a pet. ISWMP urges anyone considering pet adoption to think about the following questions prior to seeking out a pet adoption center:
• Am I ready to adopt?
• Can I Afford A Pet?
• Do I Have Enough Time to Care For A Pet?
• Do I Have Suitable Accommodation?
• Are My Children Responsible Enough For A Pet?

On top of adoption fees, potential pet adopters need to be aware of vet exams, vaccinations, medicine, food, and regular checkups. Potential pet owners also need to be mindful of a pet's need for regular exercise and attention. Also, make sure that your home is suitable for a pet who need lots of room to move around. Finally, those with children need to make sure that the kids understand how big of a responsibility it is to care for a pet.

For more information on Ting Internet and their campaign to assist in pet adoptions, please vist the link to their campaign information site at tinginternet.com/match. For more information on I Stand With My Pack, visit their website at istandwithmypack.org.