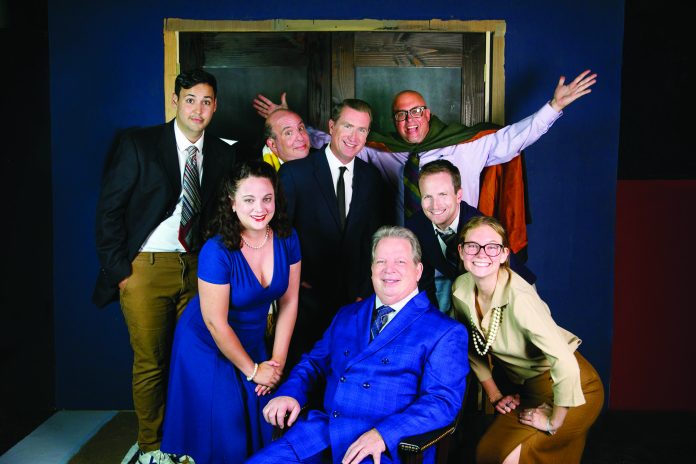 LAUGHTER ON THE 23rd FLOOR this Friday, July 22 through Saturday, Aug. 6 on Fridays and Saturdays at 8 p.m., and Saturdays and Sun- days at 2 p.m. at the Westchester Playhouse, located at 8301 Hindry Avenue, Los Angeles, CA 90045. The production is directed by Stanley Brown and produced by Kathy Dershimer for Kentwood Players, with rights secured from Concord Theatricals. Featured in the cast in alphabetical order are Matthew Abosamra, Nathan Gebhard, Ben Lupejkis, Julia McGowan, Peter Miller, Jeremy Palmer, Lyndsay Palmer, Shawn Plunkett and Lou Saliba.
Neil Simon's hilarious and poignant memory play, based on his personal experience working as a young writer for the classic 1950's comedy-variety TV series Your Show of Shows, brings to life a vivid memoir of colorful and volatile personalities relying on their comedic talents to balance their private lives with high pressure careers. Simon's 28th play is one of his best: a blend of unforgettable characters laced with an exclusive insight into the era known as The Golden Age of Television, offering audiences a perfect nostalgic getaway full of hilarity about the good old days. Parental discretion is advised due to adult language.
Reserved seat tickets are $22 with a $2 discount for seniors and students, available by either visiting kentwoodplayers.orgto purchase online and book your reserved seats, emailing the box office at boxoffice@kentwoodplayers.org or calling (310) 645-5156. All messages will be answered in the order received to confirm your ticket order. Available tickets will be sold at the box office beginning one hour prior to each performance. There will be a pay-what-you-want performance on Saturday, July 23 at 2 pm only. Everyone ages 12 and over must show proof of vaccination and photo ID for admittance and wear a face mask while inside the building.
Free street parking is available on 83rd Street and in the adjoining neighborhood, but not on Hindry Avenue, with left turns restricted on the corner of Hindry and Florence due to the new Metro train station crossing. At most performances, a free parking lot located across Hindry Avenue next to the Metro tracks will be available for patrons. Please read all traffic and parking signs care- fully. For more information, including upcoming auditions on July 31 and Aug. 1 for Lucille Fletcher's noir thriller NIGHT WATCH directed by Brandon Ferruccio, visit the Kentwood Players website at kentwoodplayers.org. You can also find Kentwood Players information on Facebook, Twitter, Instagram and YouTube.
The Morgan-Wixson Theatre in Santa Monica is presenting the family-friendly musical CINDERELLA with a new book by Douglas Carter Beane and additional lyrics by Douglas Carter Beane, David Chase, and Bruce Pomahac that updates the original book by Oscar Hammerstein II to include contemporary themes and character relationships relevant to today's audiences, celebrating being true to yourself and standing up for what you believe.
Directed and choreographed by Niko Montelibano with Greg Koppenhaver as Musical Director, the production features a cast of 30, led by Katelyn Coon as Ella; youthful Eadric Einbinder as Prince Topher; "foxy" Steve Weber as Jean-Michel; Audrey Pennington as stepsister Gabrielle; Caroline Hawthorne as stepsister Charlotte; Julie Hinton as Marie; Sara Kaner as Madame; Jack Bernaz as Sebastian; and the always entertaining, bell-ringing Steven Flowers as Lord Pinkelton. Set and lighting design by Bill Wilday and costume design by Anne Gesling will take you into the many fanciful worlds of this beloved fairytale with several eye-popping surprises.
While the production's spectacle is enchanting and will thrill young audiences, Montelibano and Koppenhaver will need to remind actors to "sing out Louise" due to often not being able to hear the words being sung over the pre-recorded soundtrack. And the two actors portraying Cinderella and the Prince seem a bit too young to believably handle the romantic relationship developing between them. However, all of the supporting characters, especially the dueling stepsisters, fairy godmother and court attendants, offer entertaining moments audiences of all ages will enjoy, with Montelibano's clever choreography during the big ensemble production numbers highlighting the show.
Produced by Regina Niles and Jeff Stevens, CINDERELLA at Santa Monica's Morgan-Wixson Theatre at 2627 Pico Blvd. runs through Sunday, July 24 on Fridays/Saturdays at 8 pm, Sundays at 2 pm. $32/ adult, $28/senior, $25/student, recommended for ages 6 and up. For tickets call the box office 310-828-7519 or visit morgan-wixson.org. Free parking is available a block west of the theater. Face masks must be worn indoors. Also ending July 24 is the group's Youth Theatre production Bedtime Stories (As Told By Our Dad) (Who Messed ThemUp).
Also continuing through this Sunday, July 24 is A WICKED SOUL IN CHERRY HILL directed by Mike Donahue at the Geffen Playhouse in Westwood. In this poignant true-crime story told completely through song, a tight-knit Jewish community gathers to recount, remember, and reckon with the details of what happened in and to their town on a November night in 1994 when a murder was committed.
This wholly original and thoroughly entertaining production, written by South Jersey native Matt Schatz, asks what it does to our souls when our leaders fall from grace. Features six magnificent performers who portray and sing many roles as well as move set pieces, and five equally talented musicians always onstage during the 90-minute production. Tickets start at $30 available by phone at 310-208-2028 or online at geffenplayhouse.org. Proof of vaccination and masks are required.