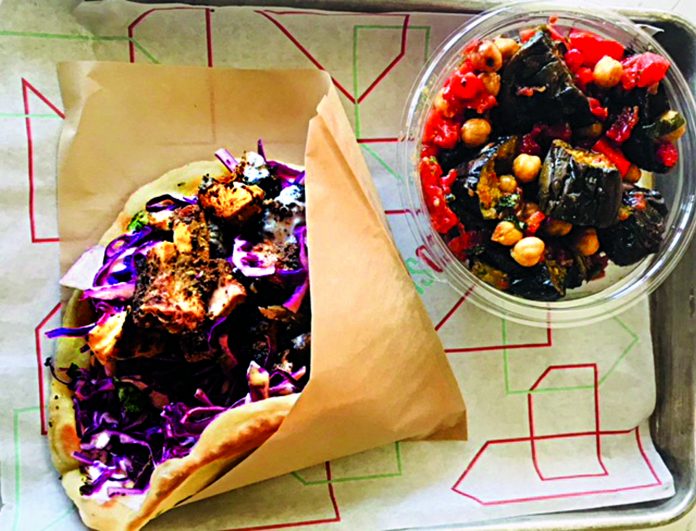 We tried Bäcoshop recently for a quick bite to eat in downtown Culver City near the Culver Hotel and Arclight Cinemas. Metered parking around the corner on Irving Avenue was a big plus.
This bright eatery has been in Culver City nearly a year and I regret not having tried their food sooner. The red paint contrasted with the teal gives it a fun vibe as does the farmhouse-style windows, bar stools and a multitude of bottled sodas.
To keep things interesting, we ordered the unique sounding chickpea and corn pancake for starters. If you have ample time on your hands, and you aren't particularly hungry this is worth the wait. The staff cheerfully explained that making the batter can be time-consuming.
I had to know what exactly a Bäco is? Looking quite a bit like pita bread and having a texture similar to a flour tortilla, it is used as a wrap. The staff smiled and looked proud when they mentioned that Bäco bread is made fresh daily by hand. It houses fillings like grilled steak, chili shrimp, and herbed chicken. A variety of sides like Street Corn or Pickled Beets and even a few salads are available.
A customer ahead of us ordered the Green Herb Chicken and it looked divine. Without any hesitation, we ordered the same item with a vegetable side. Our Bäco came filled with crunchy red cabbage, a touch of spiced yogurt and a lemon vinaigrette. The slightly blackened chicken was deliciously full of a grilled flavor and herbs.
The side we chose was Eggplant and Garbanzo and it was exceptional. It shined in comparison to any eggplant I have eaten because there was no bitterness or oily aftertaste whatsoever, which can sometimes accompany eggplant. The garbanzo beans and mild red pepper paired well with the dish and not a morsel was wasted.
Ten years have passed since Chef Josef Centeno developed this cross between a flour tortilla and pita bread recipe as a meal for his staff as stated on their website.
Centeno is far from new to the restaurant scene. He has opened five restaurants, Orsa & Winston, Ledlow, PYT, Bäco Mercat and Bar Ama which are all located in downtown Los Angeles according to the Los Angeles Times. Bäcoshop is his first eatery in Culver City. He also authored a hardcover book called "Bäco: Vivid Recipes from the Heart of Los Angeles."