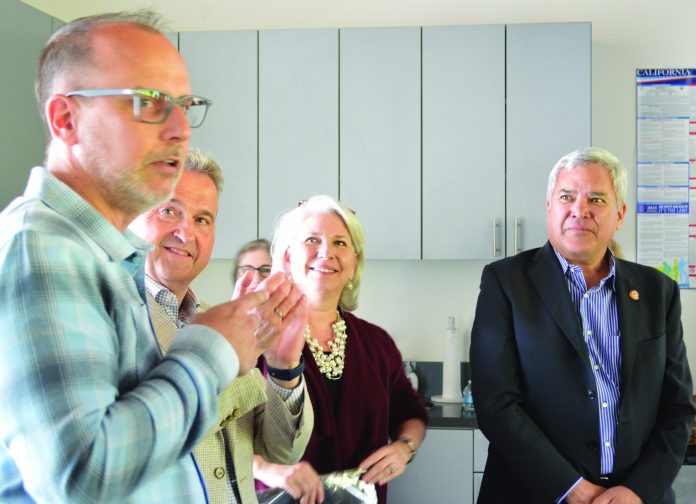 Announcement made at auticon's Culver City office
By Christian May-Suzuki
The first week of April is already World Autism Week on an international scale, but starting this year, it's about to go local for Culver City.
The announcement that Culver City will officially recognize April as Autism Awareness Month was made by Mayor Thomas Small at a celebratory event at the Culver City offices of the tech company auticon at 5855 Green Valley Cir., Culver City. Auction hires and trains mainly people on the autism spectrum to do coding and testing of web-based applications for clients remotely.
"This is probably the most creative company that I have ever encountered," Small declared in his proclamation to a room with auticon members from three Southern California offices.
For those on the spectrum, who have a 77% unemployment rate mainly due to issues with social skills, this is a great opportunity for them to find their way in at many times can be an overwhelming world.
But auticon does more than just provide a path for those on the spectrum. The company is sure to do whatever they can to help accommodate the needs of those working for them. In particular, many of the workers noted that lights were turned down and sounds were kept to a minimum for those with sensory sensitivities, a common issue in those with autism.
"They really cater toward if we have a sensitivity to light or sound, and they allow us to take frequent breaks if we need to," Evan Rochte, an employee for over 4 years, tells me.
Additionally, auticon provides training to those interested in working for them, but don't have any formal web testing experience. All of the people that I talked to only had good things to say about the training program, and how it is friendly to those who don't have much experience.
"Most people go through the training have some level of computer skills and knowledge about technology, but they aren't familiar with the software, testing, and quality assurance protocols," Rochte explained. "Once you complete the training, you have a good jumping off point for doing this type of work, but you also have people in the company who are a great resource to help you get started."
"It's something that people who think they won't be a good fit or don't know much about how this software testing field works, they get good training on the basics on how software testing in general works."
One such person is Max Gadson, who had aspirations to be a singer before coming to work at auticon.
"The training was a little bit different than what they do now, but it was really good," Gadson remembered.
The event itself was a team building game set up by a company called CityHunt after the CEO of the company saw an article in the New York Times about the auticon and contacted auticon US president Rebecca Beam to set up this event.
The game was loaded up on a team members phone, which presented them with a variety of riddles and challenges to complete, included math puzzles, riddles, and fun photo opportunities. After a little more than an hour, the team with the most points got to open a chest that contained goodies.
After the game was over, employees were treated to a cake, appropriately adorned with "#autismatwork", and people talked and laughed while some of the photos and videos made for the game were played on a TV for everyone to enjoy.
After this event, the announcement of the proclamation was officially made to the public on Tuesday at the mayor's State of City address at the Robert Frost Auditorium at 4401 Elenda St., Culver City.