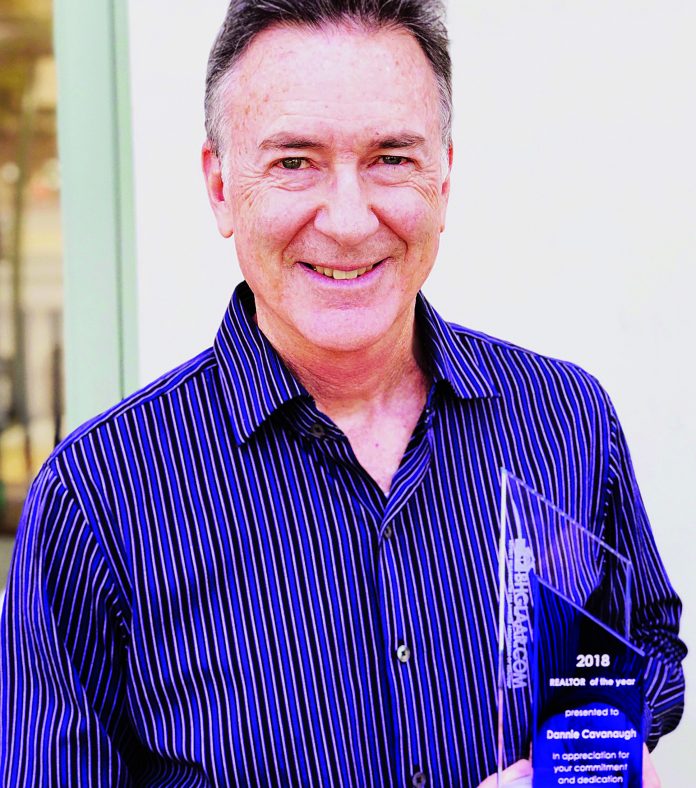 Dannie Cavanaugh finds his niche in the family business, of which he excels
When Dannie Cavanaugh graduated from Loyola Marymount University with a Bachelor of Science degree in Economics in 1975, he wasn't sure what he wanted to do with his life. His dad, who had been running his own successful real estate firm since 1961, told Dannie that he needed some help and encouraged his son to get his real estate license.
Dannie took his father's advice and a year later was working with his dad at Cavanaugh Realtors, one of the longest-running family-owned real estate firms in Culver City, having served the Heart of Screenland community for the past 58 years.
Not long after joining his dad in the family business, Cavanaugh started making a name for himself in the industry, serving on the Culver City Board of Realtors in 1979 and not long after that, becoming its director, a position he held until 1994.
He also held the position of president of the Culver City Board of Realtors in 1987, exactly 20 years after his father Dan held the same position.
Cavanaugh's dedication to honesty, treating his clients fairly and his ability to anticipate his clients' needs are key factors in his winning this year's Realtor of the Year Award from the Beverly Hills/Greater Los Angeles Association of Realtors, in recognition of his outstanding service and high standards in ethics, integrity and professional stature.
To be successful for as long as Cavanaugh has been in the real estate industry takes a skill set that not many people have.
"You've got to be a good listener and must be able to understand what people want, so you've got to be able to recognize what somebody is looking for in terms of what they want to buy or where they want to live," Cavanaugh said.
Other skills that led Cavanaugh to success as a realtor were a high level of "motivation and being a self-starter."
"On Jan. 1 of each year, you start out with zero income," Cavanaugh said. "There's nothing guaranteed, there's no paycheck that you can rely on, there are no benefits that you're going to have an employer pay for you so you've got to create your own business and your own income. If you're not motivated to do that, if you sit around hoping business walks in the door, then you're not going to make it."
He said that a positive attitude and the ability to persevere in the face of multiple rejections is what makes the difference between success and failure in real estate.
"You've got to have a fairly positive attitude in real estate because most of the time you don't succeed," Cavanaugh said. "It's not an easy job which is why we get paid reasonably well when we make a deal so you've got have that ability to hear the word 'no' a lot of times knowing that occasionally you'll get a 'yes.'"
In addition to his recent win as BHGLAAR Realtor of the Year, Cavanaugh served as the 2018 President of the BHGLAAR Charitable Foundation where he helped organize the Realtor Build Day Event with Habitat for Humanity in South Los Angeles.
Currently, in its 58th year at the same location, Cavanaugh Realtors continues to grow and evolve using the latest technology and internet marketing while still maintaining the high professional and ethical standards that made a success of Dan, Sr. and continue on under the leadership of Dannie Cavanaugh.
For more information on Cavanaugh Realtors, call 310-837-7161.