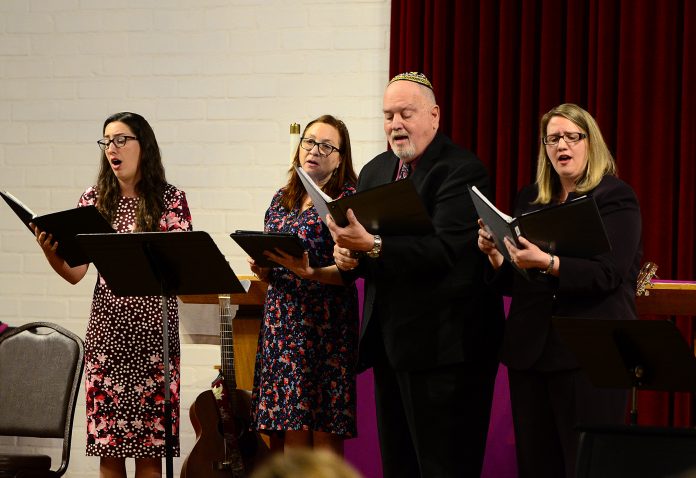 Marya Basaraba has introduced lunchtime concerts each month to the community
By Gary Kohatsu
Grace Lutheran Church on Overland Avenue is a place of worship most days, but there is a special hour reserved each month where worship and community music form a special bond.
Thanks to Grace Performing Arts Ministry and Mary Lou "Marya" Basaraba, its passionate director of Music Ministries, the gift of music takes on a special life of its own.
Referred to as the "Monthly MidDay Music," this lunchtime music series features a variety of accomplished musicians of all faiths and performing styles.
There have been four concerts since its inception in December 2018, and the fifth will be presented today. All concerts are free to the community, and donations are accepted for a variety of charities.
"My idea was to present an eclectic lineup of local instrumental and vocal professionals and community artists and to invite the Culver City and the broader community to the church to maximize our resources as a concert venue," Basaraba said. "This is something I have wanted to do for a long time and with some changes in my Holiday schedule at the end of 2018, December proved to be a great time to get started with French Hornist, Emily Reppun and soprano, Leslie Soultanian."
Soultanian, however, fell ill and was replaced at the last minute by musician Tara Alexander. Nevertheless, the December concert was a rousing success.
Since the artists receive no fees for their performances, Reppun suggested that any donations be directed to a non-profit group, which in her case was the Lutheran World Relief.
Basaraba liked and adopted the idea, and ever since, all artists select a charity to received donations.
"This charitable aspect has proven very significant and to date, nearly $2,000 has been donated to four great nonprofit organizations," Basara said.
The April 11 musicians, crossover jazz vocalist, Alison Lewis and pianist, Mahesh Balasooryia, have directed donations to the Urban Voices Project, Basaraba noted.
While she maintains a hand in each performance, Basaraba prefers her accompaniment to be from the sidelines, and on the piano.
"I had such an extensive performance career in Canada and the U.S. for several decades and am actually very happy to facilitate others in the 'spotlight' now," she said. "I prefer to accompany others now or to act as the host of the program for these concerts. My current 'hats' are as the Director of Music Ministries at Grace Church, the choir director at Temple Akiba."
Basaraba, 66, has an impressive resume as an artist and music director. She has held the position of Resident Chorus Maestra of the California Philharmonic for 12 years, delivering huge choruses of up to 220 singers to the Walt Disney Concert Hall, and huge outdoor venues for large orchestral works, such as the Beethoven Ninth Symphony
The March performers of the Grace Lutheran Church "Monthly MidDay Music," was "The Four Cantors." From left, are Cantor musicians Bryce Megdal, Rebekah Mirsky, Jay Frailich and Lonee Frailich. They performed an eclectic mix of original compositions, Jewish music, and Broadway favorites. Grace Church is at 4427 Overland Ave. All are invited to the free performances.
She is in her ninth season as the Maestra of the Golden State Pops Orchestra, performing with an elite chorus of 40 singers or more at the Warner Grand Theatre, Royce Hall and Redondo Performing Arts Center in spectacular concerts of film music with some of the iconic composer conducting their own works.
"We have sung with Michael Giacchino, John Debney, William Ross, Christopher Young, and many others," she said.
The Grace Culver website refers to Basaraba as "a highly acclaimed soloist with an extensive repertoire of both soprano and mezzo-soprano roles in Aida, La Traviata, Un Ballo in Maschera, Il Trovatore, Tosca, Madama Butterfly, Gianni Schicchi, Carmen, Cavalleria Rusticana, I Pagliacci, Don Giovanni, Le Nozze di Figaro, The Magic Flute, Cosi fan Tutte, Die Fledermaus, Der Rosenkavalier, The Mikado and the Mothers in Amahl and the Night Visitors, Hansel and Gretel and Albert Herring.  Her symphonic repertoire includes Mahler's Fourth Symphony, Barber's Knoxville: Summer of 1915, and the soprano and alto solos in Beethoven's Ninth Symphony.  Ms. Basaraba's oratorio repertoire includes the Mozart, Duruflé, Fauré and Verdi Requiems, Rossini's Petite Messe Solonelle and both the soprano and alto solos in Handel's Messiah and the Vivaldi Gloria."
Her network to other fine musicians has been a Godsend for the monthly concerts in attracting a varied list of fine performers. And the musical artists have found the venue to their liking, Basaraba said.
"The Artists have been very excited about the concept of the series and, the relaxed aspect of the format," she noted. "I chat with the audience introducing the musicians and at various intervals during the concert. At the last event in March, featuring Four Cantors, Cantor Lonee Frailich from Temple Akiba created a fully scripted program of Jewish Liturgical texts set to contemporary tunes, including one from the Broadway hit, Hamilton. As Temple Akiba Rabbi Zach Shapiro announced at the Shabbat service before the concert, go see Cantors At Church!
Thus far, the less-than-an-hour concert format has been a hit.
"My concept was a forty-five minute noon hour program, followed by a Chat With the Artists with coffee and cookies immediately after the concert," Basaraba said. "So, we need and have a great team of support from our Performing Arts Ministry. The music is the thing, but the community camaraderie is a big factor in why people are coming back!"
Besides the community, Grace Church goers have also embraced the music series.
"Overall, the church members seem delighted to host the community concert, through this beautiful series of exceptional concerts," Basaraba said. "The artists are thrilled at the audience response, both in applause and donations, and, the public is coming, growing and coming back! I take a simple poll and, it is clear that the increased attendance is the General Public, so, we thank our neighbors and community for supporting this developing venture!"
The series will take a short summer recess but plans to return.
"We have a very busy summer camp program, which will stretch our personnel and physical resources, so, we will take a Hiatus over the next few months," Basaraba said. "But, we plan to continue in the fall and to create a great 2019-20 lineup. The reception to the series has absolutely exceeded my expectations."