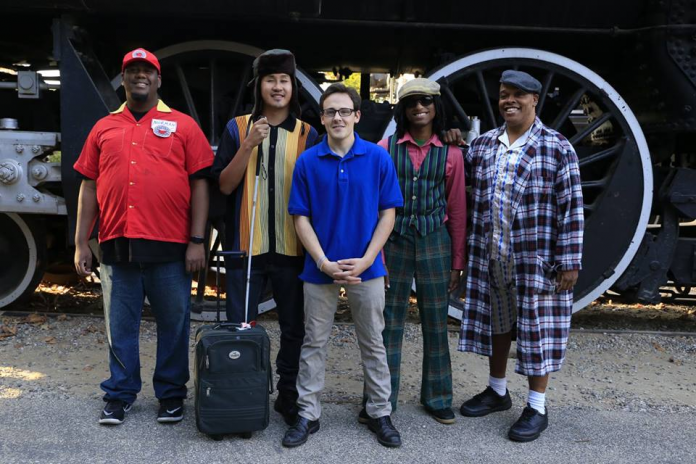 CRE Outreach is a nonprofit performing arts organization dedicated to empowering underserved youth, people with disabilities, and military veterans in greater Los Angeles. CRE stands for Create, Reflect, Empower, words that encompass the process, focus, and targeted outcomes of their programs utilizing theatre and the performing arts as a means to enhance self-esteem, encourage self-expression, and empower individuals to overcome the challenges in their lives.
The group's next production at their new The Blue Door theater in Culver City is "The Boys Next Door" by Tom Griffin, a comedy-drama centering on a caring social worker who supervises four disabled men living together in an apartment while learning to face their daily challenges together. Mingled with scenes from the daily lives of these four, where "little things" sometimes become momentous (and often very funny), are moments of great poignancy when, with touching effectiveness, we are reminded that the handicapped, like the rest of us, want only to love and laugh and find some meaning and purpose in the brief time that they are allotted on this earth. As such, "The Boys Next Door" explores friendship, love and loss in ways universal to all of us.
Directed by Jeremy Aldridge, award-winning director from Sacred Fools Theatre, and produced by Bryan C. Caldwell, Co-Founder and Executive Director of CRE Outreach as an Equity Approved Showcase with rights secured through Dramatists Play Service, "The Boys Next Door" gives CRE Outreach the opportunity to produce a published work and cast it from within three of its Theatre Arts as Therapy programs, including Veterans Empowerment Theatre members Mason Vokes as Jack, with Judy Welsh in ensemble roles; Theatre by the Blind members Kenny Lee as Lucien P. Smith, Lee Pugsley as Arnold Wiggens, CoCo Head as Barry Klemper, Staci Caillier as Sheila, with Leela Kazerouni in ensemble roles; and Rex & Friends musician August McAdoo as Norman Bulansky. Doug Jewell, a veteran character actor and proud member of Actors' Equity Association and SAG-AFTRA, rounds out the cast as Mr. Klemper.
We all fight with filters and obstacles in our lives, but the actors and characters in this production face challenges steeper than most. It is the experience and living truth of the actors that fill these characters' stories with physical and emotional authenticity. You can learn more about the cast and director by watching "The Boys Next Door" trailer on YouTube at https://youtu.be/7Lc_VOue8SY.
"The Boys Next Door" performances run two hours with a 15-minute intermission from Friday, Oct. 12 through Saturday, Nov. 10, 2018, on Fridays and Saturdays at 8 p.m., Sundays at 3 p.m. (except dark 10/21) at The Blue Door, 9617 Venice Blvd., Culver City. Single tickets are priced at $15. Tickets and information available at https://creoutreach.org or via phone at 310-425-8215. Any available tickets will be sold at the box office starting a half hour prior to show time.