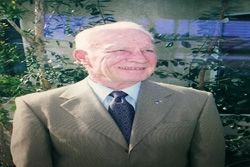 A small group of people gathered for a special occasion at Culver City City Hall April 9.  They came to honor Culver City's longest serving chief administrative officer by naming the City Hall's courtyard after him, "Dale Jones City Hall Courtyard."
Harry "Dale" Jones served "The Heart of Screenland" for more than 30 years, from 1961 until his retirement in 1991.  He was remembered as a man who loved his city, working behind the scenes while giving the credit to others.  Dale always looked at the bigger picture and was not concerned about getting the glory, but ultimately just getting things done to make this a better city.
Vice Mayor Andy Weissman, and Councilmembers Megan Sahli-Wells, Jim Clarke, Jeff Copper and wife Rafia Dadabhoy Cooper, along with former mayor/councilman Paul Jacobs and wife Joy Jacobs officiated the informal unveiling while Dale's wife Eleanor Jones, Dale's children, Colleen, Ronne and Robby Jones, and a small group of friends and family were present to celebrate the occasion.
"The Jones family would like to express their deepest gratitude to this City's leaders for their unanimous support for this honor," a family members said, " and give special thanks to Assistant City Manager Martin Cole for the time spent organizing this informal unveiling (the formal unveiling will take place during the calendar year of Culver City's centennial celebration starting in September of this year)."