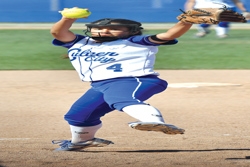 One of the hardest things to do in coaching is to replace a legend.  John Sargent coached Culver City softball for over 25 years and he also worked campus security and for the recreation department, so his presence was felt throughout the Culver City community.  Javier Gabby Chacon has some big shoes to fill.
"John Sargent left a legacy of hard work and dedication," said Chacon last week.  "I think I came in at the perfect time.  We have good players, a new facility, a great administration and great parents and the chemistry is second to none."
Chacon and his assistant, Jose Mejia inherited a young team that has experience. The team is comprised of one freshman, six sophomores, six juniors and three seniors.  That's a good combination for the present and future.  "We have a good mixture of girls," said Chacon. "Our number one pitcher, Emily Piera and back catcher, Eva Fairbanks grew up together and they have great chemistry and all of our girls are hungry to win and play Culver City softball.  We want them to compete and execute."
The lady Centaurs are currently 7-9-1 overall.  They are in third place in the Ocean league with a record of 2-1. They travel to Lawndale today for a 3:15 p.m. game and return home for two very important games next week. On Tuesday they battle second place El Segundo at 3:15 p. m. and next Thursday they face first place Santa Monica at 3:15 p.m.  "One of our goals this year is to win the Ocean league," Chacon said.
Chacon is also pleased with the top of his lineup. Batting leadoff and playing shortstop is Sidra Montoya and hitting in the second spot is second baseman Julia Perez.  "Our centerfielder and backup catcher Mariko Rooks is also doing a great job," said Chacon.  "She is a hard worker and she is very intelligent."
Right now the softball program appears to be in the right hands but time will tell if Chacon is wearing the right shoes to fill the void left by Sargent.
In other Culver City sports all four track and field teams will lock horns with Beverly Hills today at 3 p.m.  on the Centaur's track.  The Culver City teams are undefeated and hope to carry that momentum into today's meet and next weeks' Ocean league prelims and finals.  Both the prelims and finals will be at Culver City on May 2 and May 5.
The baseball team was in first place at press time and will host Santa Monica  today at 3 p.m. They are 12-7 overall and 4-0 in league play.  Santa Monica is 12-8 and 4-0.  Next week the Centaurs travel to Beverly Hills to face the Normans on Tuesday at 3 p.m.