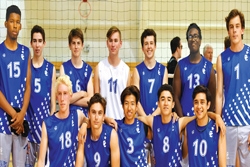 When you look at Culver City's boys' volleyball team the first thing you notice is their lack of size.  The second thing you notice is they don't look very athletic but when they step out on the court your opinions quickly change to positive thoughts.  They are competitive, enthusiastic and passionate.  Head coach Joe Manzo and his assistants deserve a lot of the credit.has 231
The coaching staff has taken a group of teenagers with only four seniors and produced a team that has a record of 9-12 overall and 4-3 in the Ocean league.  Their league record is good enough for third place.
"It's been a patience season for me," said Manzo last Saturday during a break at the Culver City Invitational Volleyball Tournament.  "We have a lot of new kids because we graduated nine players last year. We are young and we are learning and we are holding down our position and right now we are beating the teams we are supposed to beat. We are not as strong as we have been in the past but these kids have heart and they enjoy the game."
That energy was on display last Saturday at the inside the Del Goodyear gym on the Culver City high school campus during the invitational.  Volleyballs were flying all over the place as two courts had matches being played simultaneously.  At the end of the day Culver City made it to the finals against a tall and talented team from La Canada.  The Centaurs loss the match but just making it to the finals showed what kind of season they are having.
"The tournament is a good fund raiser and we have a lot of fun," said Manzo, who is in his fifth year  coaching the boys' and girls' program "It's really good for our JV players because they can come out here work and watch all of these varsity players."
The JV players don't have to look far if they want to watch and learn from a good player.  Culver City's Kyle Johnson is one of the best players and athletes in the West Los Angeles area.  Johnson is a three sport star who also excels in football and basketball.  In volleyball he is on his way to setting a school record in kills.  He already has 231 this season.
Johnson. A senior is happy and surprised with the development of the team this year. "It's a lot better than I thought it would be," said Johnson, who will be playing volleyball at UC Santa Cruz the next four years. "We thought it was going to be a rebuilding year but everyone has improved. We are peaking at the right time and I think we can make the playoffs."
Other players that have stepped up this season are Jonathan Cummings, Beck Garcia, Ethan Small, Alex Stewart, Coleman Houston and Travis Tarpley.  Their next match is today at 3:15 p.m. at home against Hawthorne and their last regular season match will be at Beverly Hills on Tuesday at 3:15 p.m.