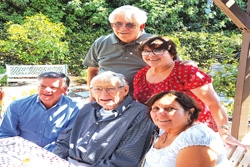 The oldest living elected person in Culver City will greet Fiesta La Ballona guests this weekend at the Culver City Centennial Celebration Committee booth at Veterans Park.
James Gibson, 101, was on the Culver City Board of Education from 1962-67. As a candidate, he promised to reduce the school dropout rate, expand the guidance, counseling and adult education programs, accelerate construction of the natatorium, and develop community cultural activities for the newly constructed Robert Frost Auditorium.
The longtime Culver Crest resident volunteered on the PTA, Boy Scouts and American Field Service, an international youth exchange organization.
Former presidents of the Culver City Board of Education, Marla Wolkowitz and Madeline Ehrlich, contacted Gibson after recently seeing his name on the Culver City Education Committee, a group he founded, and Culver City Sister Cities Committee. Ehrlich hosted a luncheon, Monday, for the centenarian attended by Culver City Mayor Jim Clarke.
Aside from meeting Fiesta visitors this weekend in the Centennial booth, the retired electrical engineer will wave in the Culver City Centennial parade, Sep. 24, and start the Culver City Centennial Screenland 5K, Feb. 26, on Academy Awards morning.