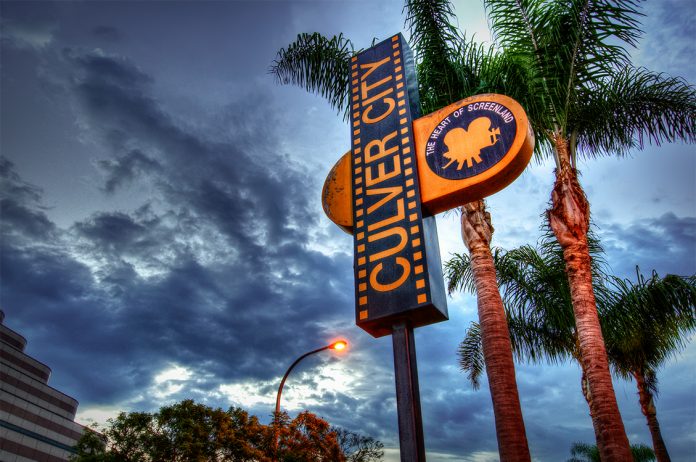 Where can you get both local and imported gourmet foods, freshly made bread and pastries, sustainability sourced meats, and unique home-made snacks?
You can start — and maybe end — with the Culver City Farmers Market which is open to the public every Tuesday from 2 p.m. – 7 p.m.
Culver City's version of the traditional fruit-and-vegetable stand has grown considerably over the decades. The market has melt-in-your-mouth fresh organic strawberries, persimmons and other seasonal fruits and vegetables overflowing from the wooden baskets and crates on many of the tables.
Come hungry because bite-sized samples of many of the foods being sold at the market can be yours for the taking.
I found the atmosphere to be welcoming, easygoing and friendly. Local musicians playing drums were heard on the day that I visited. A face-painted balloon artist offered his creations for sale and was seen making his masterpieces to curious kids passing by with their families.
A vast array of foods like aged cheeses, freshly made local dips, pickled vegetables, and both local and organic produce abound at the city's Farmers Market.
It is entirely possible to stock up on meals for the entire week or to simply enjoy a quick snack while taking in the fresh air and sunshine at the outdoor open-air marketplace. The Culver City Farmers Market also sells handmade jewelry.
For the uninitiated, the market is the size of a city block and has offerings of apples, fresh cherries, berries, kumquats, fresh herbs, squash, yams, and even farm fresh eggs. Honey, nuts and dried fruits are also in abundance. Some of the above items are seasonal, so take advantage of what the current harvest has to offer.
A nice selection of colorful fresh flowers and small plants can be purchased or just admired on a stroll through the marketplace. There is even a handy knife sharpening station.
The one-stop-shop has everything from coffee drinks and fruit drinks to frozen fruit bars and freshly popped kettle corn.
Dedicated farmers from throughout California proudly display their local harvest of produce where much of the items were picked fresh from the farm and carefully packed and driven to Culver City to be sold the same day.
The farmers who sell their goods at the Culver City Farmers Market are involved "seed to harvest" which means they are involved in all aspects of the growing process, according to the culvercityfarmersmarket.org website. In 2017 Sustainable Management Services, the new operator of the Culver City Farmers Market came aboard to accomplish this task of becoming a Certified Farmers Market and it continues to be an ongoing effort.
The Culver City Farmers Market is located downtown on Main Street and additional information can be obtained by visiting their website at  https://www.culvercityfarmersmarket.org