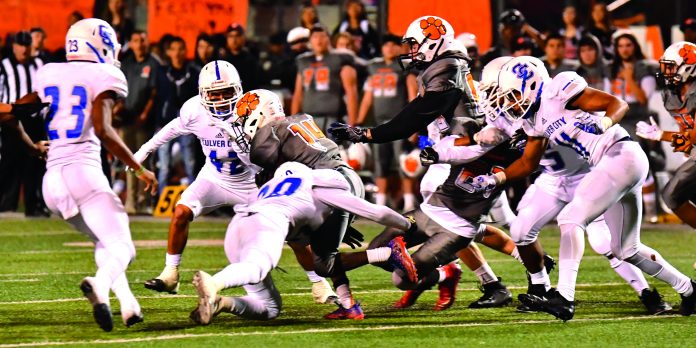 By Steve Finley and George Laase
The Culver City football team is looking for the icing on the cake. The cake was the CIF Division 7 Championship they won last Saturday when they beat San Jacinto 61-21. The icing is now they have a chance to win a State Championship. The Centaurs will host Lincoln High School of San Diego on Friday at 7:30 p.m. inside the Jerry Chabola Stadium in the first round of the State Regionals.
Last Saturday night at San Jacinto the Centaurs showed a packed stadium why they are one of the highest scoring teams in Division 7 history. All three phases of the team, offense, defense, and special teams took part in the victory.
"It's awesome," said a happy and relieved Culver City head coach, Jahmal Wright. "I knew for a fact that we were going to make it to the championship game. There was no doubt in my mind that we had the capability to get here. So all we needed to do was put in the hard work to make sure we got here. The players and the coaching staff have sacrificed so much to make it this far."
Although Culver City has many stars on this team, one star shines the brightest and that is senior Kevin McGuire. Once again, jersey No. 2  showed why he is one of the best players ever to put on a Centaur football uniform. Against San Jacinto, he caught nine passes for 207 yards and three touchdowns and he ran the ball for 36 yards and one touchdown.
"This indescribable," said a happy McGuire after last Saturday's game. "This was our goal from the beginning of summer practice.  All the blood, sweat and tears that we had to go through all paid off. Just making it here is  amazing."
McGuire will be the first person to admit Culver City has a lot of great football players on this team and he knows football is a team sport. "I just try to stay humble," said McGuire. "We have a lot of playmakers on this team. We are so versatile on offense, defense and special teams and that benefits me. I am so grateful for my teammates and coaching staff."
Another senior player who had a great season is Jamal Glaspie. The senior receiver and punter were almost speechless after they won the CIF Championship. "Words can't explain how I feel right now. We did what we had do. Our focus and mentality is great on this team and we all have good relationships with each other. We have a great coaching staff and they make sure we did all of the right things in practice and the games."
There were a lot of happy people at San Jacinto, but one person was happy and proud at the same time. "I am so proud of all the players, the staff and the coaches," said Athletic Director Tom Salter. "A lot of alumni came back to coach this team and we are a lucky school to have a head coach like Jahmal Wright. He is a father figure for all of his players and his daughter is a cheerleader and his wife takes care of the snack bar. How great is that."
Wright had this to say to the team after they won the championship. "If you put your mind to it you can accomplish anything and that's something that they can take with you for the rest of your lives."