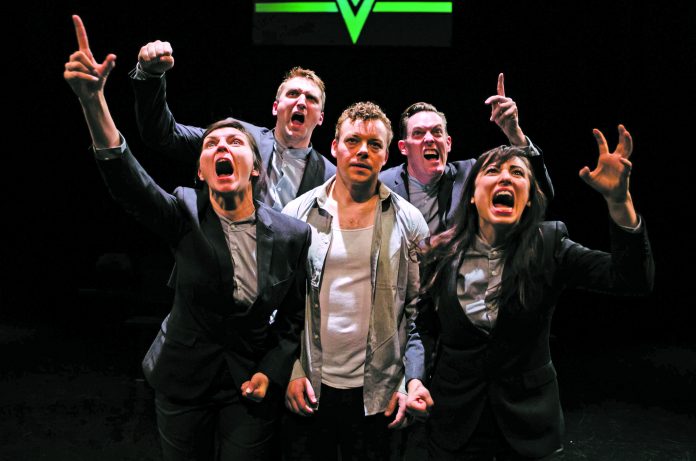 The company will be putting on performances starting today
As scary as it sounds, many people feel that '1984' is as relatable as ever in the political climate of today. The Actors' Gang has certainly picked up on this, running a production of the famous tale of Winston Smith from today, Oct. 10 to the final showing on Dec. 7.
This production will also be the first time that three women will have been cast for the play, according to Actors' Gang member Hannah Chodos. Chodos, who plays one of the political party members that dominate society, says that she feels this story should provoke some self-reflection.
"[1984] opens a lot of possibilities in terms of the truth of the novel," Chodos explained. "I think it leaves a lot for the audience to decide whether the story is hopeful or not. I hope the audience leaves the theater asking themselves questions and feeling uncomfortable about it."
The relevance of the novel comes from its extreme depictions of governmental authority, with the 'Big Brother' moniker that represents an absolute lack of privacy originating from this novel. Chodos touched on the idea of facing that issue not only in terms of the world but also in terms of yourself as an individual, as Winston Smith has to in the story.
"Something that all theater can do at its best is 'wake us up' to the world that we are living in," Chodos said. "When we go back out into the world [after a play], we relate to the world in a different way, so I hope people are asking those questions."
Putting a play on with the connotations that 1984 changes an actor or actress's view of the world in a similar manner that they hope to bring to audiences, and Chodos was no exception.
For Chodos, the idea of Winston's revolution was one that was relatable in many ways despite the extremity of the circumstances, and Chodos learned from those parallels.
"I am beginning to understand that my own individual human revolution is tied to the collective human revolution, and our collective life as a community," Chodos said. "The most revolutionary thing I can do is learn to be my authentic self, to do work on myself, and to live in a way that is keeping with my values."
In the month of October, the play will be featured every Thursday through Saturday at 8 p.m., with one Sunday showing on Oct. 27 at 2 p.m. A similar schedule is in place for November, though there will be two Sunday showings—one on Nov. 10 and the other on Nov. 24—both at 2 p.m. The production will not be put on from Thursday, Nov. 28 to Saturday, Nov. 30. Three final shows will be put on in the first week of December from Thursday, Dec. 5 to Saturday, Dec. 7. Tickets and additional information can be found at theactorsgang.com.