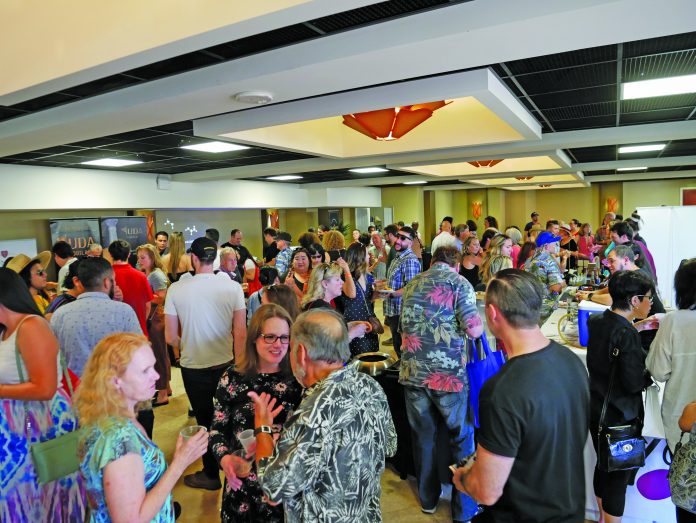 After another successful summer event, The Westside Food and Wine Festival will be making its return for a fall iteration on Sunday, Oct. 13 from 2 to 6 p.m. at the Courtyard by Marriott LA Westside, 6333 Bristol Pkwy., Los Angeles.
This fifth iteration of the event will see a portion of its proceeds benefitting the Westside Food Bank, just as event organizer Todd Elliott has done in the past. While the main feature of the event is the presence of over 50 exhibitors of food, wine, spirits, and beers, there will be a variety of other features at the event, including a silent auction.
Live music will be present for the event, as well as a DJ for a range of music at the festival. There will also be a photo booth, a strolling magician, and the chance to win future festival tickets in Blackjack.
On top of food and drink vendors allowing festival attendees to sample their products, there will be plenty of additional vendors with giveaways for those in attendance to partake in, including Culver City-based businesses in Shanti Hot Yoga and Culver City Dentel, as well as larger companies like Sprint and the American Red Cross. For the cannabis connoisseur, MedMen, Kikioko CBD, and Rawesome Morseld CBD will be present at the festival.
On the food end, Culver City favorites like Rush Street and LaRocco's Pizzeria will be serving their products at the event, while newer faces like Culver City's New School of Cooking will also be around.
Of course, there will be plenty of non-Culver City-based options to try as well, including multiple chocolate retailers, fruit and grocer retailers like Imperfect Fruit, and more complimentary options like Oil & Vinegar from the Del Amo Mall in Torrance.
In addition to serving food, Rush Street will also be serving their cocktails at the event. They represent Culver City on the drink vendors ends along with Harajuku Taproom. Several wineries and breweries will also be present at the event—including Vista Del Rey Vineyards and Venice Duck Brewery—as well as spirits distributors like Morandell Imports Spirits.
On the non-alcoholic side, the festival will feature intriguing and unique options that cover some of the most niches of drinks including kombucha and collagen water. Additionally, less traditional 'drinks' like Morning Recovery will also have a place at the festival.
VIP entrance begins at 2 p.m., while general admission tickets allow you access starting at 3 p.m. Tickets range from $40 to $100. Children 10 and under are able to get into the festival free with an accompanying paid adult. For more information, visit eventbrite.com.