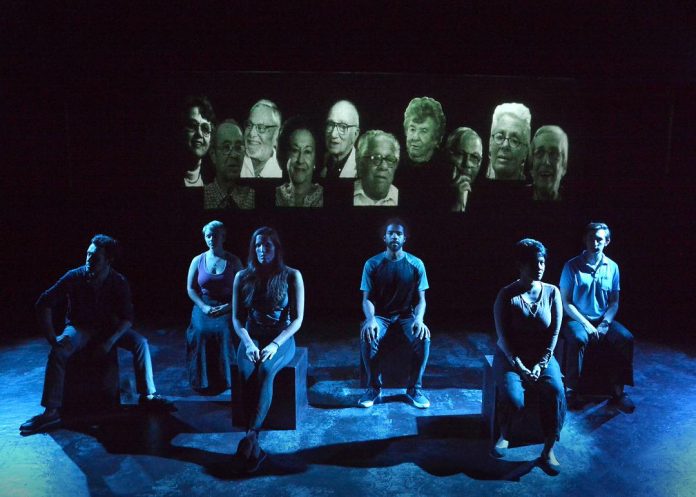 By Shari Barrett
The NEVER IS NOW cast pose with photos of the Holocaust survivors whose stories they share. (seated from left: Joey Millin, Eliza Blair, Sarah Tubert, Adam Foster Ballard, Evie Abat, Michael Kaczkowski). Photo credit: Ed Krieger
Recognized as a "powerhouse of new play development" by Dramatist Magazine, Skylight Theatre Company can boast that many of its World Premieres have gone on to be performed nationally and internationally. That will certainly be the case for NEVER IS NOW, Wendy Kout's stunning examination of what happens when people from diverse backgrounds experience the firsthand accounts of ten survivors who were labeled "undesirable" and thrust into Hitler's systematic genocide.
The production is directed by Tony Abatemarco and Celia Mandela Rivera, featuring six actors who take on many roles, interacting with each other as themselves as well as many characters sharing their personal experiences during a time when fear and the need to blame others for the troubles of the world caused madness to take over a society struggling to rebuild itself.
Proving the past is prologue, Kout disturbingly links then and now so we may understand what breaks us apart as well as embrace what bonds us together by sharing, "I am ever inspired by our capacity to change… our world, our country, and ourselves. NEVER IS NOWexplores the perilous past through the prism of our perilous present as a warning for our future."
Originally created as a way to share the true stories of actual Holocaust survivors in schools to assure the world will never forget the human horrors of that time, the play has been expanded so we first meet the actors themselves who go on to share the survivors' stories. Thus we learn to understand how their own lives and problems, as well as their fears about living in America now, are reflected as each transforms into various characters from across Eastern Europe who lived in fear as the unthinkable began happening all around them. This powerful new play is thought-provoking theatre at its best as Kout disturbingly asks us to consider how "Never Forget" and "Never Again" have become NEVER IS NOWas fear and apathy seem to be ruling the day.
Featured in the cast are Evie Abat, Adam Foster Ballard, Eliza Blair, Michael Kaczkowski, Joey Millin, and Sarah Tubert, each of whom represents a modern-day person who would have been deemed "undesirable" in Hitler's Germany. As they rehearse the play's dialogue of true tales of racism, blind national pride, and the denial of reality which prevailed in Eastern Europe during the 1930s and 40s, their own personal emotions are laid bare as they explode at each other when their own opinions about our political world today are brought to light in comparison to what happened in such a world gone mad. To fully embrace the situation, one need only think about the conditions in our ICE border camps now and how the past seems to be repeating itself with the party in power authorizing the separation of parents and children of those deemed "undesirable" to be in our country.
"The responsibility of the arts in divisive times is to entertain, educate, engage and to incite," believes co-director Tony Abatemarco. And NEVER IS NOW is just the beginning of the conversation, ultimately leading to the conclusion that "Never Forget" and "Never Again" must always be part of our reality so that hope, and mankind, can survive.
Performances continue at 8:30pm Fridays, Saturdays 4:00pm and 8:30pm, and Sundays 2:00pm through October 27, 2019 at the Skylight Theatre, 1816 ½ North Vermont, Los Angeles, CA 90027. An American Sign Language (ASL) interpreted performance will take place at 4:00pm on Saturday, October 19. Tickets start at $20. Information and reservations: (213) 761-7061 or (866) 811-4111. Online ticketing at http://SkylightTix.org