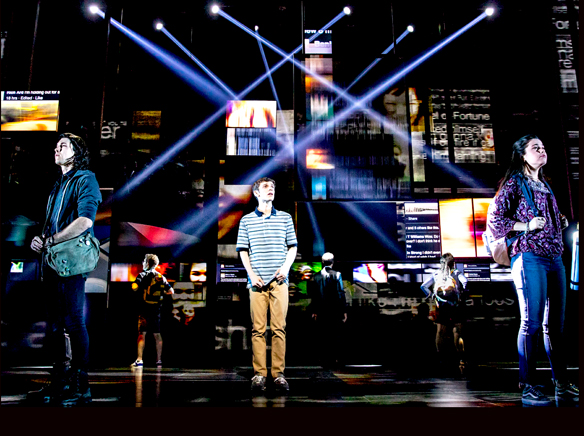 DEAR EVAN HANSEN is a deeply personal and profoundly contemporary musical about the way we live our lives vicariously online, speaking directly to the absurdity of letting the online world rule our lives if we believe everything we read as fact. It won six 2017 Tony Awards including Best Musical and has already shattered all weekly box office revenue records in Ahmanson and Center Theatre Group's more than 50-year history. And for good reason.
Featuring an exceeding well-written book by Tony Award winner Steven Levenson, a rocking and emotional score by Academy Award and Tony-winning composers Benj Pasek and Justin Paul, and brilliant direction by four-time Tony Award nominee Michael Greif, "Dear Evan Hansen" will grab you by the heartstrings as each of the characters are brought into crystal clear focus by the talented cast whose voices soar and complement each other with exquisite harmony, thanks to Music Director Austin Cook whose 10-piece band enhances each of the 16 songs reflecting the struggle to exist in our modern online age where secrets and lies can become reality in a matter of seconds.
From the moment the story begins on David Korins' dazzling multimedia scenic design with mind-boggling projections by Peter Nigrini and attention-grabbing lighting designed by Japhy Weidman, the musical's first national tour led by Ben Levi Ross in the title role with stage and TV star Jessica Phillips as his over-worked single mother Heidi Hansen who struggles to assist her son with developing his social and interpersonal skills, lets us know Evan is on the Autism spectrum although it is never mentioned by name. After taking the advice of his doctor, the teenager begins writing notes to himself in a journal, beginning each with "Dear Evan Hansen," snippets of which are projected on the several stories high set surrounding him. The constant changing movement of the letters and online media no doubt reflect the many elements bombarding Evan's mind, often leading to his confusion on how to deal with real people.
As a way to encourage his interaction to make new friends at school, Heidi suggests that Evan ask those who he wishes were his friends to sign the cast on his broken arm. And although we never really learn how the injury occurred, since so many explanations are offered to so many different people, it is only when Evan meets the depressed and lonely outcast Connor Murphy (Marrick Smith) whose sister Zoe (Maggie McKenna) is the object of Evan's affection, that the cast becomes a catalyst in the story. You see, Connor signs it with his first name in letters so large you can read them clearly to the last row of the Ahmanson, causing Evan to make-up stories about their close friendship after Connor commits suicide that same evening. And soon, with the misguided help of online media mavens Jared Goldsmith as Jared Kleinman and Phoebe Koyabe as Alana Beck, his "Dear Evan Hansen" notes are shared online as if Connor wrote them to his friend and confidant during the final few months of his life.
This fictional friendship soon warms the hearts of not only his own mother and schoolmates, but also Connor's grieving parents, portrayed by Tony Award nominee Christiane Noll as Cynthia Murphy and Broadway veteran Aaron Lazar as Larry Murphy. Soon Evan is accepted as their daughter's boyfriend and a replacement for the son they lost. But of course, Evan really never knew Connor except for the brief moment when the two met and his cast was signed, so as the online fantasy friendship grows bigger in scope, Evan's emotional stability spins out of control as his belief in being true to yourself to build confidence is thrown aside in the pursuit of popularity. It's an unfortunate reflection of how our current society's obsession with celebrity above all else rules the online world as well as the lives of so many misguided and lonely people whose entire existence revolves around fictional online posts which are accepted as fact.
I hope everyone who sees this magnificent production will walk away with not only an appreciation of the technical brilliance of it but also a desire to go home and talk to each other offline to encourage the much-needed emotional attachment that seems to be lacking between family members and friends these days. Perhaps if we can all learn to respect each other's truth without judgement, society might be able to survive without the online world taking over and making the imaginary world it purports into our only reality.
"Dear Evan Hansen" continues through Nov. 25, daily except Mondays at Center Theatre Group's Ahmanson Theatre at The Music Center, 135 N. Grand Ave. in Downtown L.A. Tickets range from $99 to $285, available online at CenterTheatreGroup.org, by calling Audience Services at 213-972-4400 or in person at the Center Theatre Group Box Office. Groups: 213-972-7231.