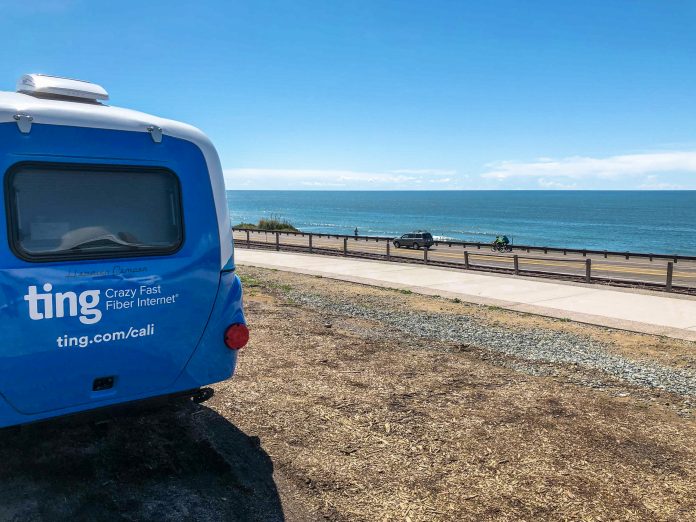 The pandemic has undoubtedly opened the eyes of Culver City residents about a few certainties: online streaming of your entertainment is more than just a trend, and that working and doing business remotely — aka from home — is an increasing option.
But there are other end-use factors that are just as important for your internet to have, such as pricing, speed, reliability and uninterrupted signal quality.
Enter Culver City's newest fiber internet provider: Ting Internet. 
Ting Internet's mission is "to bring the speed, reliability and opportunity that only true gigabit fiber-optic Internet infrastructure can provide to residences and businesses in cities and towns across the U.S.," as shared in a statement from the company.
Launched in 2015 in Charlottesville, Va., Ting Internet has since brought fiber across 13 towns and cities in North Carolina, Idaho, California, Maryland and Colorado. 
The company expanded its fiber internet service to Fullerton in April 2019 and Solana Beach, a coastal city in San Diego County, in November 2019. The company also announced its expansion into Encinitas last month. 
Culver City is the third community in California to become a "Ting Town."
With local internet service drawing heat for a variety of concerns from some residents, Culver City officials searched for a competitive alternative.
"The City issued an RFP (request for proposal) for Network Operations in 2019, and Ting responded," said Monica Webb, Head of Market Development, Ting Internet. "Culver City understood the importance of universal fiber infrastructure for residents and businesses — even before the pandemic — and was very proactive in bringing providers to the city."
CONNECTING WITH CULVER CITY
Ting responded with a business infrastructure, service plan and a vision for the future was impressive. Also reassuring was that Ting Internet is a division of Tucows (NASDAQ: TCX, TSX: TC).
Culver officials didn't hesitate.
"We are pleased to welcome Ting to the community and we are excited that residents and businesses will have more choice in 'fiber-to-the-home,' high-speed Internet service providers, especially during these challenging times and into the future, as many of us continue to fully or partly work from home," Culver City Mayor, Göran Eriksson, said.
The partnership evolved from early discussions that were generated by Ting's RFP response. 
"We're proud and excited to welcome Culver City," Elliot Noss, CEO of Tucows said. "The people of Culver City, like people all over the United States, want faster, more reliable Internet."
Network construction is underway in the city and the first customers will be "lit with fiber service by the summer," the company has said.
As detailed in a company statement: Ting Internet offers symmetrical gigabit fiber Internet for residential, small business, and enterprise customers. 
Home gigabit internet starts at $89 a month, while business gigabit internet costs $139 a month. Enterprise internet service levels, installations and pricing are customized to business needs and can be discussed with the Ting Internet enterprise team.
City residents can pre-order Ting now at ting.com/culvercity. All pre-orders will get free installation and one month of free service.
During service installation, the customer and the technician will work together to find an appropriate path for the fiber, based on final service location and physical limitations. 
Updates will be announced on the dedicated Culver City Ting Town page at ting.com/culvercity. This page will be updated regularly as milestones are reached.
IMPORTANCE OF COMMITMENT
"Ting Internet provides Crazy Fast Fiber Internet® and is committed to net neutrality and the Open Internet," a spokesperson said in a company statement. "More than that, Ting Internet is committed to being a part of improving the communities it serves by supporting and championing local good works. Ting Internet sponsors local programs, events, foundations, festivals, charities, and public services everywhere we go, investing in the future of the towns we serve."
For the less informed, Ting Internet is not your grandfather's copper connection.
"Traditional cable internet transmits data via a copper wiring infrastructure, which is prone to corrosion and is typically installed as a shared service with neighbors," explained a statement from Ting Internet. "This inherently makes your internet subject to slower service and network interruptions — especially during peak-use periods or when your neighbors are heavy internet users."
Fiber internet networks, in contrast, are installed directly to the home with a dedicated line. This guarantees higher speeds, service reliability and bandwidth capabilities.
"By installing fiber directly to the home, Ting can confidently offer a superior internet experience for its users," continued the statement. 
Multiple internet users in the home or business can stretch the bandwidth, causing slowdowns and interrupted service. 
Fiber internet, however, is designed specifically to ensure consistent service. Ting's fiber internet runs directly to the home to ensure seamless, uninterrupted, and symmetrical upload and download speeds — making it ideal for all types of residential and business needs. 
For those homes or businesses requiring multiple lines or have a variety of devices internet-dependent, Ting offers a router for rent or purchase. 
ROUTER/EXTENDER
The company said it offers a router and Wi-Fi range extender that delivers speeds up to 2 GBps within the home and it pairs perfectly with Ting Internet fiber service.
Likewise, this setup provides no weak signals or dead spots; broadcast is strong and Wi-Fi is reliable to every corner of the home.
 Ting Internet routers come preconfigured and Wi-Fi extenders can be added with a press of two button, as reported on the company website.
Wi-Fi devices automatically switch between the Ting Internet router and Wi-Fi extenders to find the best signal as people move in the home.
 If a person is tech-savvy and comfortable with setting up and maintaining his own router, a person's "Bring Your Own Router" will be used in place of Ting equipment.
For those who primarily connect their devices to Wi-Fi, signal strength is key to having a good experience.
"Good signal quality is correlated to good performance and weak signals beget poor performances and connection stability," Ting's website notes.
To get the signal strength as high as possible, Ting Internet offers the following tips:
Move closer to your wireless router.
Gain line-of-sight to the router (minimize the number of obstructions).
Try switching between the 2.4G and 5G radios depending on your location relative to the router (5G is preferred when you're closer to the router).
Make sure to disconnect or upgrade older Wi-Fi devices (5+ years); these may use a different Wi-Fi protocol than your newer devices and cause your network to slow down to accommodate them.
Those who want to know more about Ting Internet and its variety of services, visit https://ting.com/internet/town/culvercity.