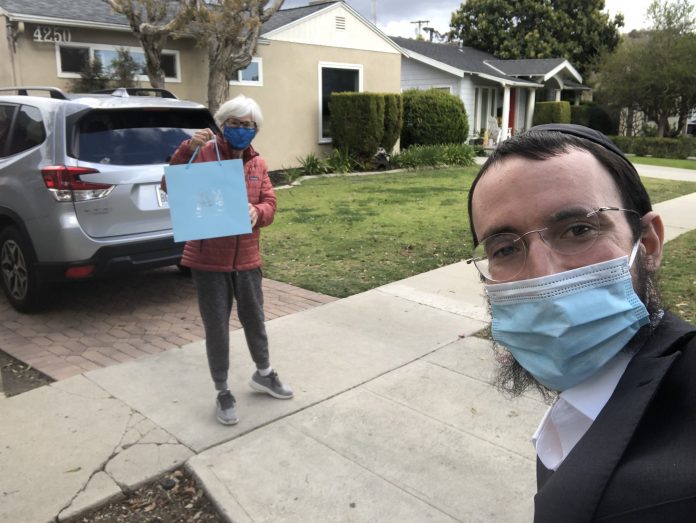 Passover is one of the most important holidays in the Jewish calendar because it is a day for unity and freedom.
Unfortunately, both of those feelings can be hard to come by with the pandemic still looming, but Chabad of Culver City is looking to do something about it.
This will the the second Passover during the pandemic, with the first taking place just as lockdowns began a year ago.
One of the highlights for Chabad Culver City's passover last year was the distribution of Passover "care packages" to families, and it is something that Rabbi Levi Begun has continued this year.
"I have been spending the past week or two delivering Passover packages to different homes in our community, well over 100," Rabbi Begun said. 
The impact of these packages and the thought that goes into them is apparent, as Rabbi Begun recieved an outpouring of apprciation.
"I had an online class recently, and had a woman tell me 'God put you at my doorstep, because I was feeling so lonely, and you coming by was the greatest thing possible,'" Begun explained.
"We have been dealing a lot with reaching out to people and letting them know that they are not alone, and we felt that was the most incredible thing for people at this time," Rabbi Begun said. 
"There are so many families and people that are unable to see their grandchildren, which means so much to them."
Begun and the volunteers that help him are looking to relay a message of hope through their actions.
"We are here as a community, and we have each others backs, and we are going to get through it together," Begun said.
The care packages that Chabad of Culver City is headlined by a very unique, handmade matza from Israel called shmurah matza.
This particular matzah is created with painstaking attention to detail, and is similar to the matzot that were baked by the Children of Israel as they left Egypt.
"It really gives you that feeling of how it was back then, and that's why I feel that is important for every family to at least have that matzah on the table."
The packages also come with a guide to set up a Passover seder, as well as  grape juice to replace wine. Some also include Gefilte fish, a white fish traditionally eaten during Passover. 
Of course, putting the packages together is only half the battle. 
As the program recieved more attention following last year, an increasing number of volunteers stepped up to distribute to those in need.
I take no credit for this, it is really the people in the community that step up," Begun said.
With the experience of the previous year under his belt, Begun has made adjustments for the distribution this year, including an early start.
"I was actually able to plan the distribution and make sure that I can reach out to all families."
Another change Begun made was the volume of matzah that he ordered for the packages, using the numbers from last year to ensure that there was enough to go around.
"I have been spent quite some time now on distributing," Begun said.
While the work is tiring, there is nothing else that Begun would rather do.
"What is the holiday of Passover? It is celebrating freedom…I feel like this feeling of freedom is more important now" Begun explained.
"Everyone has had their own situation, their own 'mini-exile,' and that is what we had to do the past 12 months. When it comes to Passover, it reminds us that there is hope."
Begun  summed it up in one word: redemption, and he sees that redemption from the people who say he helped them.
"There is no greater feeling going to sleep at night than when you hear such a message," Begun said. 
But through it all, Begun doesn't feel that he is doing anything special. He is just doing what he needs to do.
"God put every single person on this Earth with a mssion: to make the world a better place. I feel like when I get these messages, I am just doing what my mission is, what I am here to do"