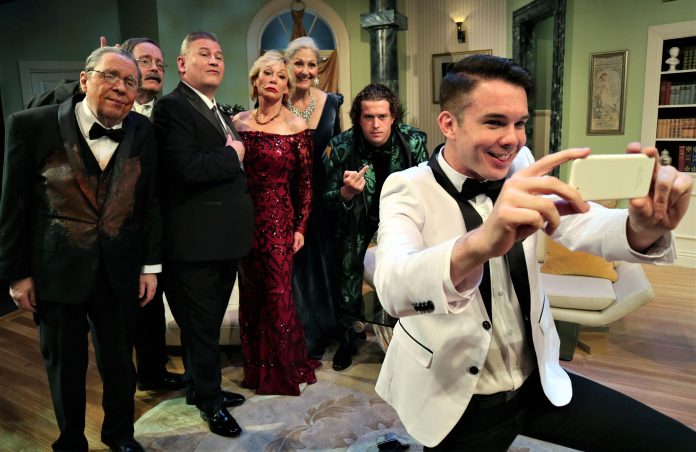 Terrence McNally's hilarious ode to life in the theater IT'S ONLY A PLAY debuted off-Broadway in 1985, with a revised version debuting in 2014 to update the celebrity and Broadway show references for more modern audiences. The action takes place at the opening night after party of The Golden Egg on Broadway in 2015, and the wealthy producer Julia Budder (Mouchette Van Helsdingen) is throwing a party in her lavish Manhattan townhouse. But the real action is upstairs in the bedroom where a group of insiders have staked themselves out to await reviews.

The anxious group includes the excitable playwright Peter Austin (Fox Carney); the possibly unstable wunderkind British director Frank Finger (Peter Henry Bussian); the pill-popping leading lady Virginia Noyes (Cheryl David) who is treading the boards after becoming infamous in Hollywood; the playwright's best friend James Wicker (Todd Andrew Ball) for whom The Golden Egg was written but passed on for a television series now in its ninth season; Ira Drew (Jeffrey Winner) a well-known but despised critic; and a new-in-town wannabe singer Gus (Joe Clabby) who seems to be most enthralled by all the celebrity guests who hand him their coats as they arrive, which he carefully lays out on the bed upstairs.

Director Larry Eisenberg makes the most of the theater-insider jokes and hilarious one-liners from start to finish by keeping the actors in constant motion as their nerves and tempers ebb and flow as the good, the bad, and the ugly reviews start coming in. Even the playwright leading a prayer circle won't keep this play from being called a flop! But like all directors, producers, playwrights and actors, that is a hard pill to swallow without several rounds of drinks or something a bit harder.
Will the producer pull the play after only one performance? Will the playwright ever be able to get another of his plays produced? Will the hoping-to-make-a-comeback actress ever be able to prove her stability enough to get her vibrating ankle bracelet removed? And will the full-of-himself director be thrilled to have his first bad review or again be disappointed by being labeled a genius?

Add to this a drama critic who's panned the playwright in the past and a new-in-town aspiring singer, and you have a prime recipe for the narcissism, ambition, childishness, and just plain irrationality that infuse the theater world around the globe. And what fun it is to be a fly on the wall watching their big egos get taken down a notch! The talented cast is dressed to black tie perfection by Michael Mullen, with Jeff G. Rack's set design providing the perfect upscale bedroom nooks and crannies for the action to take place.

IT'S ONLY A PLAY Is produced by David Hunt Stafford for Theatre 40 at 241 S, Moreno Dr., Beverly Hills 90212 from March 23- April 23 on Thursdays through Saturdays at 7:30 p.m. and Sundays at 2:00 p.m. Reserved seat tickets are $35, available at the door or online at http://theatre40.org or by calling (310) 364-0535. on the campus of Beverly Hills High School. Free parking is available in the parking lot adjacent the theater. To access parking, enter through the driveway at the intersection of Durant and Moreno Drives.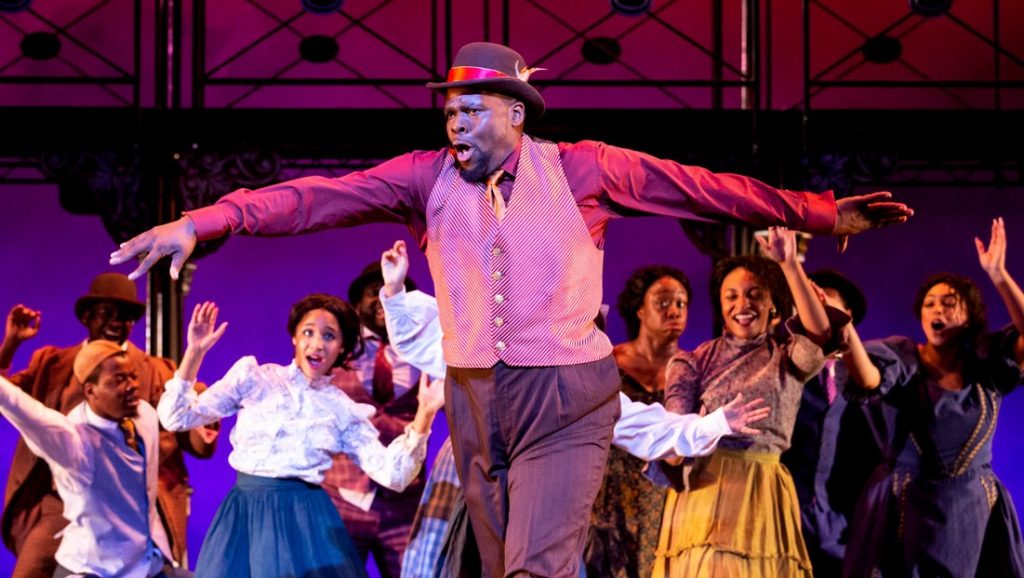 RAGTIME: The Musical, based on the classic E. L. Doctorow novel, features a Tony Award-winning book by Terrence McNally and one of the most gorgeous musical theater scores by Lynn Ahrens and Stephen Flaherty. Set in the first years of the 20th Century, it deals with immigration, racism, white privilege, women's' rights, workers' rights, violence in the name of justice, and even the clash between fact and fiction in reporting our history. And unfortunately, some things never change, it seems.
The glorious production by 5 Star Theatricals at the Kavli Theatre in Thousand Oaks is brilliantly directed by Jeffrey Polk, with musical direction by Tom Griffin, and show-stopping choreography by Michelle Elkin. Centering on three compelling cultural storylines which intertwine to form a rich tapestry of the hopes and dreams, struggles and triumphs, love and heartbreak of those seeking a better life, the incredibly talented cast is introduced as they weave around each other during the opening number "Ragtime." And after a rousing almost three-hour run time, all are united by their courage, compassion, and belief in the promise of a brighter future in America for their children.
The wealthy, white New Rochelle ensemble represents the kind of gentrified life many would hope to achieve. But life behind closed doors is often not as perfect as it seems. Misty Cotton leads this ensemble as Mother, a woman whose ideal life is turned upside down as she learns to stand on her own two feet. Michael Scott Harris portrays Father, her wealthy, globe-trotting, conservative husband who cannot fathom the change in his wife after being gone for a year. Mother's Younger Brother (Jeremy Ingraham) searches for a purpose in life after chasing sexy and scandalous Evelyn Nesbit (Monica Danae Ricketts), and Little Boy Edgar is played with wide-eyed wonder by Daxton Bethoney. And Grandfather (Richard Storrs) is frustrated at everything going on around him, longing for just some good old-fashioned peace and quiet.
The discovery of an abandoned black baby in Mother's garden brings people of color from Harlem into the privileged white family's world. This ensemble is led by Marty Austin Lamar whose stage presence and incredible voice ignite the entire production as Coalhouse Walker Jr., especially with his beloved Sarah (Brittany Anderson) during their hope-filled duet "Wheels of a Dream" with Coalhouse's new Model T Ford next to them. But their forward-moving trip shifts into reverse when Coalhouse rightly demands justice for a crime committed against him simply due to the color of his skin. As the level of violence increases, Ceron Jones righteously portrays Booker T. Washington who desperately tries to stop it.
The Immigrant ensemble is led by Hank Jacobs as Tateh, a poor Jewish artist who comes to America to make a better life for himself and his young daughter. Frustrated, he soon shares the rules of "Success" with his Little Girl (Lila Dunham), whom he leads around on a rope during their first train ride away from the filthy lower East Side tenements. During their stopover in New Rochelle, a chance meeting with Mother and her little boy Edgar allows Tateh to see that not all people in America are against newly arriving immigrants, giving him hope. Another immigrant, socialist Emma Goldman, who raises her voice in support of labor unions, is portrayed with righteous indignation by Samantha Wynn Greenstone, especially during "The Night That Goldman Spoke at Union Station" when she ignites Younger Brother into her cause. Immigrant and master escape artist Harry Houdini, portrayed by Jacob Hoff, pops in now and then to remind Tateh to follow his example and succeed in fulfilling his dreams.
Technical credits and a skilled live orchestra add to the entire overall magnificence of this production. Without giving away more of the spellbinding plot, all I can say is get yourself to the Kavli Theatre at the Bank of America Performing Arts Center, 2100 Thousand Oaks Blvd. in Thousand Oaks through Sunday, April 2 for not only the entertainment but the education about our history now onstage in RAGTIME: The Musical. Tickets are $35-$90, available by calling (805) 449-2787 or visiting www.5startheatricals.com