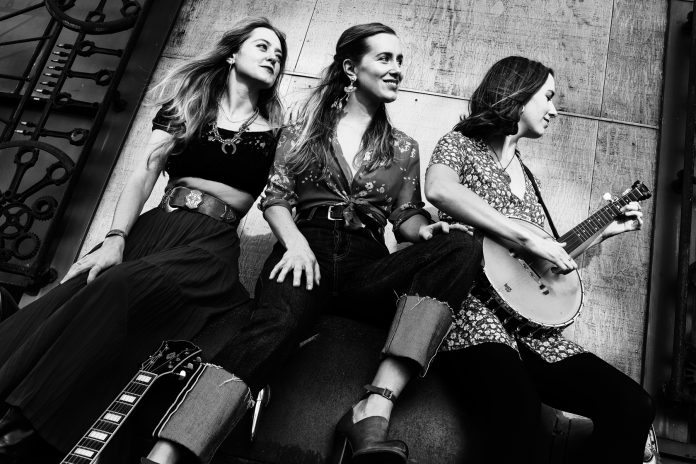 Blood sisters Erika, Rachel and Chloe Tietjen, better known musically as the T Sisters, will bring their harmonic, catchy indie-folk Americana music to Boulevard Music on Friday, June 7 at 4316 Sepulveda Blvd., Culver City. They will perform from 8 to 10 p.m. and the ticket price is $17.50.
The News spoke with the enchanting trio and got the lowdown on their brand and sound.
When did you start playing and writing music?
We've been singing together since we were kids. We grew up in a musical family, our dad is a songwriter and our mom grew up singing with her sisters, and we received a lot of our musical training through osmosis. Erika, in particular, started writing songs from a very early age. We all picked up the guitar in high school but it's really been in the years post-college that we've delved more deeply into songwriting and playing instruments.
Who are your main influences?
Our dad is a huge influence musically. We grew up hearing him play his songs. Our parents introduced us to many bands that were influential to our sound including the Beach Boys, Joni Mitchell, Stevie Wonder, Donny Hathaway, the Mamas, and the Papas and the Beatles. As we developed our own musical tastes we were drawn to harmony groups especially En Vogue, SWV in the r&b realm the Dixie Chicks in the country/bluegrass realm.
Where are you based?
We are based in Oakland, Calif. We grew up in the SF Bay Area and love the diversity of musical styles that have come out of here including many prominent hip hop artists, r&b artists, and even folk artists. We feel, however, the growing challenges of being an artist in one of the most expensive places in the country. While the music scene is still thriving, it is still a struggle to get people to get off their couches and go see a live show. People are hustling to survive the high cost of living so it sometimes feels like there is diminishing energy for live entertainment.
Best gig and worst gig?
One of the best gigs we've had that comes to mind was opening for Amos Lee at a beautiful theater in Portland, Ore. to one of the largest audiences we've been in front of. They were listening and appreciating the music and it was a huge positive affirmation of what we're doing. The worst gig that I can think of to date was at a place which shall not be named, but what made it the worst was not to just the attendance of 4 people, but the belittling way in which the organizer treated us in front of our small audience. He was on a power trip and at the time we were easy targets. I think we've gotten much more assertive in those situations and not to mention we'll never go back to that place.
Do you have any albums/singles available?
We have two full-length albums the first of which, Kindred Lines, was produced by friend and musical mentor, Laurie Lewis. Our second full-length album, T Sisters, was self-produced has a more modern indie flavor.
We have released 4 EPs, but the most recent one is called We Are Bound and was produced by Oliver Wood of The Wood Brothers and features Chris Wood and Jano Rix as well. We are excited about how this project captured a more raw and honest T Sisters sound and Oliver was the perfect guide.
Have you played at Boulevard Music before?
We played at Boulevard once a couple of years ago. The crowd here really pays attention and appreciates the music. We're looking forward to the show!
What can we expect on Friday?
The performance will be the T Sisters trio. We'll be sharing new original songs with our signature tight harmonies and backing ourselves upon acoustic and electric guitars,
banjo and a creative rhythm section featuring washboard and stompbox. We have fun interacting with the audience and telling stories.
What are your future plans?
This summer is busy with touring our new release. We are looking forward to not only our tour in the southwest but also a tour on the East Coast that includes a festival in Maine. We're also heading to Alaska for the first time to play a festival which is really exciting. Later this summer/early fall we will be getting back into the studio to work on our next album. In general, we are just keeping things rolling and excited about new opportunities.