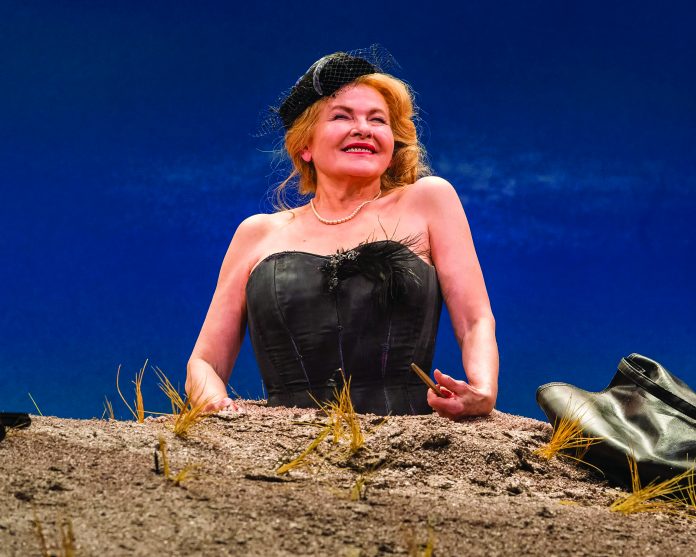 With her husband Willie (played by Michael Rudko) increasingly out of reach and always taciturn, and the earth itself threatening to swallow her whole, Winnie's buoyant optimism shields her from the harsh glare of the inevitable in this absurdly funny and boundlessly compassionate portrait of the human spirit.
Be prepared to watch in amazement as the animated Wiest follows Winnie's daily routine while frequently uttering her favorite refrain, "Oh, this is a happy day" after each of the slightest positive moment in her dismal existence.
Later, in Act II she is buried up to her neck but continues to talk and remember happier days, even though she is unable to reach for anything or see more than a few feet in front of her. And to make matters even worse, Willie has stopped responding to her completely leaving the lonesome Winnie wondering if he is still even alive or just staying silent to torment her even further.
Winnie is considered modern drama's pinnacle female role, with Wiest a wonder in presenting her endlessly fascinating spirit of cheery resourcefulness and unassuming grace in the face of inevitable oblivion. It's no wonder director James Bundy, Dean of Yale School of Drama and Artistic Director of Yale Repertory Theatre (producing company of the play) chose the character-driven and attention-grabbing Wiest to portray the almost constantly speaking and self-examining character, whom Wiest refers to as "Hamlet" for women.
Wiest's amazing physical and vocal skills allow us to see Winnie as an almost innocent and childlike character, going through her daily routine of examining the contents of her large leather bag on the sand beside her or raising her sunshade umbrella simply because she can dance with it to imaginary music. Even when she shocks us by pulling out a gun, which finally rouses Willie from his adult postcard viewing reverie, Winnie seems oblivious to her lot in life so similar to an abused woman caught in a relationship from which she cannot escape.
After all, her needs are dependent upon a man who instead chooses to ignore her pleas for assistance, with Rudko often turning Willie's back to her, seemingly annoyed at most of what Winnie has to say. Of course, it is easy to imagine his irritation at her constant babbling about how "strange things come to mind now," especially since we never really know how the two got to this isolated, sandy pile of nothingness or how long they have been there.
The mound of sand by scenic designer Izmir Ickbal dominates the stage, hidden from view until the play begins, no doubt to allow for Wiest to remain movement free for as long as possible, especially during Act 2's almost complete encasement. Lighting designer Stephen Strawbridge and sound designer Kate Marvin work in unison to create just enough of the situation's reality and fantasy to keep things interesting. Costume designer Alexae Visel's all-black attire offsets the eye-blinding sand.
"Happy Days" will play at the Mark Taper Forum through June 30, 2019, with the opening set for May 22 at 8 p.m. Tickets ranging from $32-$115 are available online at CenterTheatreGroup.org, by calling Audience Services at 213-628-2772 or in person at the Center Theatre Group Box Office (at the Ahmanson Theatre at The Music Center in Downtown Los Angeles), where the Mark Taper Forum is also located, at 135 N. Grand Ave., Los Angeles.