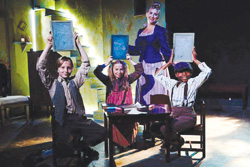 On Aug. 4, 1892, Lizzie Borden's father and stepmother were found bludgeoned in their family residence in Fall River, Massachusetts, home to the largest textile mills in the U.S., hence the nickname of Spindle City. With circumstantial evidence pointing in her direction, Lizzie was arrested for murder and the trial date set for June 5, 1893.
The trial lasted 14 days and caused a national sensation as it was the first public trial in the United States to be covered extensively by the media. Popular opinion was split on the innocence or guilt of Lizzie Borden, with strong support coming from feminists and animal rights advocates. But did she really commit the double murder? That question still remains to this day.
SPINDLE CITY: THE LIZZIE BORDEN MUSICAL, presents a whole backstory to this historical figure known for only one moment in her life in which she (supposedly) delivered 40 whacks to kill her father and then her stepmother, as sung by the three adorable children in the cast (Alex Jebb-Quine, Makayla Rowles and Christian Simon, the latter two among the most enthusiastic and gifted younger actors I have ever seen). The song Is heard in the opening courtroom scene, and again in the church schoolroom scene during their musical number with Lizzie.
The town's textile mills, owned by Lizzie's father, Andrew (Chas Mitchell) and his partners, employ many of the poorest immigrants in town. Her father also owns the local funeral parlor, making Lizzie's family one of the town's seven wealthiest. Being far more intelligent to accept working in a mill or funeral parlor, Lizzie spends her days as an advocate for the welfare and education of the local children, teaching them at Sunday school.
But her efforts are occasionally thwarted when some children are pressed into labor at the mill, which pays its workers starvation wages under unsafe conditions. Tragedy soon befalls the mill in the wake of an appalling industrial accident, causing the deaths of many including six children. Lizzie's father and Abby (Jazmine Ramay), his uptight witch of a wife, are about to find their fortunes have changed when the angry townspeople loudly protest against them.
The musical examines whether or not Lizzie was the instrument of the people's revenge for the deaths of their family members, and proposes she actually recruited many of the workers to assist in the gruesome murders. Lizzie is portrayed by Emily Bridges who commands the stage with her presence from moment-to-moment, realistically sharing the many emotions as well as frustrations Lizzie endured in a time when women's equality was non-existent.
The musical also examines Lizzie's fascination and deep-seated love for another woman, the visiting Broadway actress Nance O'Neil, portrayed by the luminous Kristin Towers-Rowles who lights up the stage, especially during her second act opening number "It's All About Me," giving us a clue as to how things will work out between the two.
Meanwhile, her father's aide, a young African-American named Tommy Thompson (Rowan Treadway), pines for Lizzie, a feeling she does not reciprocate. Also pursuing Lizzie for not the best of reasons is her father's business associate John Morse (Rick Simone) who attempts to control her with physical threats. Simone makes it easy to see how Lizzie would never accept this type of man as her husband.
With book, lyrics and music written by Katrina Wood who believes Lizzie's complex burdens and barren family life led her out-of-control emotions to culminate in one horrible moment of uncontrollable rage, I would suggest a few re-writes to tighten up the story's inherent confusion as well her score which includes musical stylings from too vast a timeframe. And it is strange that we only see the murder of Lizzie's father and not her stepmother, especially since Lizzie would have really enjoyed taking part in that brutal retribution.
As directed by Trace Oakley, most of the cast has mismatched accents and character presentation skills, making the musical seem to be more of a workshop production. And I would have appreciated a song list included in the program. Choreographer Averi Yorek appears to have decided to use the simplest of movements rather than inspiring more from the cast, other than allowing the natural abilities of Towers-Rowles and Treadway to highlight the show. Costume designer Taylor Moten's lovely feminine form-enhancing wardrobe is often overshadowed by outrageous Gibson Girl wigs.
And I would suggest lessening the dress trains as I often was worried about actresses getting caught up in the too-long hemlines. The men fare better with time and class appropriate costumes.
Since the tale of Lizzie Borden continues to fascinate people, no doubt this world premiere musical will always appeal to those of us still attempting to figure out if she really did pick up an ax and give her father 40 whacks. I leave the decision of her guilt up to you!
The world premiere of "SPINDLE CITY: The Lizzie Borden Musical" continues at the Secret Rose Theatre, 11246 Magnolia Blvd., North Hollywood, through Saturday, Nov. 5. Regular show times: Friday at 8 p.m., Saturday at 3 and 8 p.m., Sunday at 3 p.m. Special Halloween show on Monday, Oct. 31 at 8 p.m. (period costumes encouraged). Running time is 120 minutes plus intermission. Tickets are $32 general, $18 veterans/seniors/students, $15 children ages 11 to age 17. For reservations, call 323-960-7780 or online at www.Plays411.com/spindlecity. More show info at www.lizziebordenmusical.com.