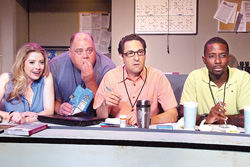 Set in the press box of a major Los Angeles baseball stadium, GOING… GOING… GONE! is a World Premiere comedy by Ken Levine, an Emmy Award-winning writer (Cheers, M*A*S*H, The Simpsons), who is also the acclaimed sportscaster and former host of Dodger Talk. As such, he had an insider's view of the goings-on behind-the-scenes at the stadium, especially in the press box where he witnessed an interesting array of conversations between the many characters assigned to cover the games.
His skill with dialogue is ever-present throughout the production, creating the real uncensored flavor of what goes on when the microphones are off (hopefully!).
Levine's belief in the universal need every human being has to be remembered makes up his underlying theme of the play, skillfully directed by Andrew Barnicle at the Hudson Guild Theatre in Hollywood. It centers on four sports journalists whose lives are changed during the course of one game. At once poignant and hilarious, the play moves along at a fast and realistic pace during a game lasting over 15 innings during which time each of the characters are richly portrayed by a very talented cast during the 90-minute show, played without an intermission. "The characters are all loosely based on people I know," says Levine. "These folks are working in a world that celebrates milestones above all else. They are wrestling with time, wondering what their legacy will be."
"Going… Going… GONE!" stars Annie Abrams as beautiful and smart Shana Sanders, whose backbone is strong enough to stand up to the attention lavished upon her by the male sportscasters who cannot take their eyes off her as she stretches during inning breaks. Abrams lets us in on the joke as she is well aware her every movement is meant to distract her cohorts from watching the game. Her presence also adds in a bit of religion and spirituality as the press box conversation ignites when her Jewish background is revealed.
Troy Metcalf from ABC's The Middle is perhaps her biggest challenge as Big Jim Tabler, a large bear of a man who writes on a sports blog and uses language that reminded me of Donald Trump, both racist and degrading to women. But Metcalf has the skill to pull the role off beautifully and let us see the lonely man behind his public persona and laugh with him as well as at him. After all, there are a lot of people in the world who think as Big Jim does but are too afraid to admit it. And probably just as many motivated by food as he is!
Suffering the most from Big Jim's racism is Mason Young, a black sportswriter from the L.A. Times played by Dennis Pearson who knows how much to take and when to react with his own slurs aimed at Big Jim's size. Rather than calling him by name, Big Jim refers to Mason by every famous black athlete's name from Le Bron to Ali, comparing his lack of skill in leaving his mark on the world, even though Mason reminds him links to his L.A. Times column will exist forever. "Yeah as long as the paper doesn't fold," is Big Jim's response of course, citing his superiority in writing online as "the wave of the future."
David Babich portrays Dennis Minishian, the game's official scorekeeper whose attention must be focused on every play as he may be called to make a ruling at any point. But as he gets distracted by both the loveliness of Shana and the many calls from his frantic wife attempting to make the winning bid on a house in Mar Vista, Dennis pops enough Xanax to calm a wild horse. As his mood mellows and his inhibitions are released, Babich lets us see into Dennis' life outside the box, the one place he feels appreciated and always listened to, much different than his life at home. At the end, he makes a life-changing decision to live the life he wants for himself, but you have to wonder whether or not that decision will ever come to fruition. We can only hope so for his sake of this henpecked nebbish.
Best known as the former Artistic Director of the Laguna Playhouse, director Andrew Barnicle is a huge baseball fan. When he previously directed Levine's play A or B? for the Falcon Theater, the two bonded over their common love of the sport. "Ken is writing from a very personal perspective," Barnicle says. "He understands what it means to be locked in a room for hours with a group of very smart sports journalists who can give as good as they get, and whose one shared experience is a love of the game."
But even if you are not a sports fan, I guarantee you will enjoy laughing along with and at Levine's outrageous characters!
"Going… Going… GONE!" runs through Nov. 20 with performances on Fridays and Saturdays at 8 p.m. and Sundays at 3 p.m. Tickets to all performances are $30. The Hudson Guild Theatre is located at 6539 Santa Monica Blvd., Los Angeles. For information and to purchase tickets, call 323-960-5521, or go to www.plays411.com/gone