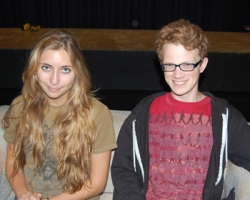 The graduating senior class of Culver City High School's Academy of Visual and Performing Arts' (AVPA) Blurred Vision Theatre Company culminated their high school theatrical careers last weekend with their Senior Seminar production. Senior Seminar was a class pitched by the class of 2010, designed so that students could write, direct and produce their own shows.
This year, the seniors wrote an original one-act play called Follow the Leader, written by seniors Kevin Mitchell and Emma Niles and directed by Mitchell. They also adapted Ray Bradbury's short story The Veldt into a short play, written and directed by Niles.
Follow the Leader is the story of the Alien Hunters Federation of America and their fight against the alien presence in Harmony, Alabama. In class, Mitchell and Niles led the other students through a series of writing workshops to develop plot, characters and actions. After they had an idea of what they were writing, they had their fellow classmates play the parts, to improvise dialogue that would later work as lines for the written play.
"The Veldt focuses on the negative effects of technology, and I think that is a very relevant issue with today's generation," said Niles. "I feel like our society suffers from such an overload of technology, and Ray Bradbury's original short story, inspired me to push away technology and turn to literature instead."
Senior Seminar 2011 began with a very specific plan: to write a play by a certain date, rehearse it in the round and perform it in mid-May. But, after AVPA Theatre Director Sheila Silver took a medical leave, liability issues caused authorities within the Culver City Unified School District discomfort at dividing responsibility between many different teachers for nighttime rehearsals. Options consisted of performing the show in its original format on campus on a Tuesday and a Thursday afternoon from 3 p.m. to 5p.m., canceling the show completely or starting the rehearsal process again, independently of AVPA or CCUSD. Because many parents could not attend an afternoon performance, a new venue was selected to accommodate a more convenient time. After re-blocking the entire show to fit a proscenium stage, a new home was found in The Willows Community School, which graciously donated space.
Although everyone in Senior Seminar faced an immense challenge when Silver took her medical leave, the cast and crew doubled their efforts and put in hard work to keep the shows alive. While it was a long and occasionally difficult process, the seniors were excited to finally open the two productions and show off their hard work.
This year, the students learned that the show really must go on. They plan to donate the profits to Inside Out Community Arts, a theatre program in Venice for disadvantaged youth that specializes in the healing power of theatre.