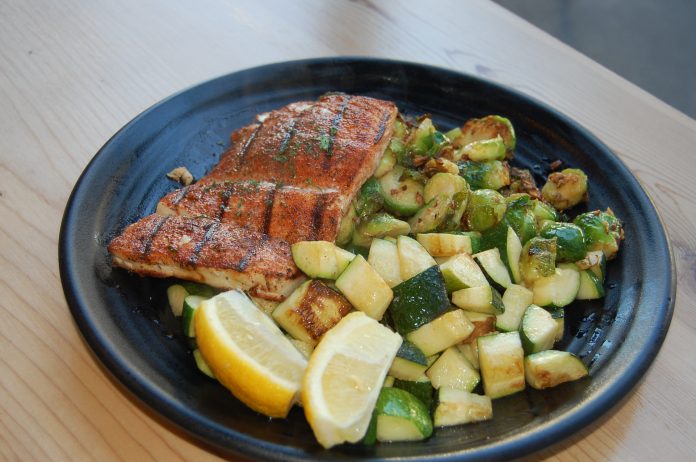 "Who doesn't love seafood?" asks the Seasalt Fish & Grill on their website biography. "We do. Fish, shellfish, crustaceans, and poke, we are fellow fans. The problem with seafood restaurants is the constant struggle between seafood freshness & quality vs. price. But why not both? Our goal is simple: Get the freshest seafood, prepare it the same day, and serve it fresh, delicious, and fast. That's all there is to it."
To be fair, that does sound incredibly simple. One would imagine that making fresh fish affordable in a coastal region can't be crazy difficult, and yet so many establishments seem to struggle. Seasalt has found a way, and that's part of what makes it such a wonderful part of the Culver dining landscape.
It's only one part though; the location, on Washington, means that there's plenty of parking surrounding it (even if you have to pay for some of it), and it's in a bouncing, vibrant part of town.
The place looks fun too. Upon entering, you're greeted by a wall of sauces and drinks, a glass screening allowing a look at some of the fish on offer, and a whole lot of chrome, glass, and light wood. It's like an old school fish market has been cleaned to the point of immaculate. That collision of traditional and modern is fascinating.
The staff are super helpful, and can guide you through the choices on the menu. That's awesome, because there are a lot of them. We went with the "Off the Grill" part of the menu, opting for mahi mahi over the likes of Atlantic salmon, white fish basa, barramundi, jumbo shrimp or, if you went to a fish restaurant but don't like fish, steak asada (surf and turf is also an option).
The next thing you have to pick is your protein seasoning. We went with Louisiana Cajun, because the mahi mahi is a meaty white fish and it can take the spice without losing out on flavor.
Finally, you get to choose two sides. We went with sauteed zucchini and garlic brussel sprouts, to be healthy. But there are tempting alternatives available, including rice, slaw, parmesan garlic fries, and chips n salsa.
Regardless, we were very pleased with our choices. Though the zucchini paired with the sprouts did mean that there was a lot of green on the plate, the flavors still contrasted perfectly, the garlic from the brussels also making their way over to the zucchini.
Naturally, the fish was the exciting part and it didn't disappoint. The flaky, strong meat and Cajun spices bounce around on the palate, the fresh veg sitting comfortably alongside.
It's a treat of a meal, and only a small example of what this great place offers.
Seasalt Fish & Grill is located at 9901 Washington Blvd., Ste 101, Culver City. Call 424-361-5222 or visit seasaltfishgrill.com.