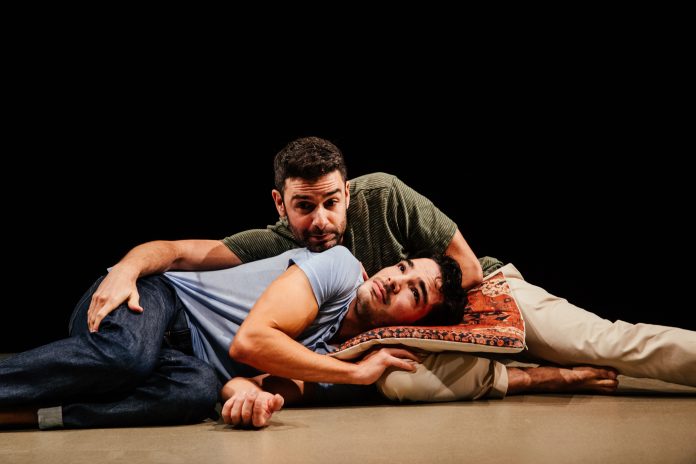 The epigraph of E. M. Forster's 1910 novel, Howards End, is "Only connect…" referring to how important it is to open up to the world and other people to experience a greater understanding of others and more personal happiness. But perhaps its most important meaning is to acknowledge the importance of the past and how it affects the present as well as the future. When playwright Matthew López took Forster's book as the inspiration for his play The Inheritance, he retained the theme of connection and remembrance but centered the story around modern gay men grappling with making connections as the AIDS pandemic took place around them and how it went on to change their lives forever. The powerful, tour-de-force over 6-hour production is performed in two parts at the Geffen Playhouse in Westwood. Seeing it brought back emotional memories of the equally-long Angels in America when so many also walked out of the theater crying at the injustices faced by the gay community.
The Inheritance begins in Summer 2015 in New York with E. M. Forster ("Morgan" portrayed by Bill Brochtrup) leading a class to inspire young, gay men to write about their lives with authenticity about the challenges they face. The class decides to create the life story of one of their own, Toby Darling (Juan Castano), an ambitious if troubled (and very promiscuous) writer. That story becomes the base of The Inheritance, with Morgan leading the way in chronicling the characters and situations of Toby's life.
Toby's story begins during his time living with Eric (Adam Kantor) in a nice apartment Eric has inherited. As the story progresses, the entire fourteen-member ensemble takes on the many various characters when called upon to do so by Morgan, Toby, Eric, or even each other. The entire cast is seated on the floor around a low-slung table large enough to fill the entire stage, often on more than one level, created by scenic designer Jamie Todd. Props are pulled out from beneath it as needed, while the platform becomes the many locations needed to tell Toby and Eric's stories. The platform also is used as a sounding board for special effects, such as hand drumming, to draw attention to the action or emotion being portrayed, or sometimes accompanying a song being sung to add a bit of distraction from the heartbreak taking place.
When Toby writes a play based upon his book, a chance meeting with young actor Adam (Bradley James Tejeda) becomes a turning point in Toby's life with Eric, who discovers he's going to lose his apartment soon. As Toby pulls away from him, Eric becomes friends with the older and initially more formal Walter (Bill Brochtrup), who opens up to him about his beloved country house and how what he did with it drove a wedge into the relationship with his rich husband, Henry (Tuc Watkins). As the relationships/friendships with Adam and Walter progress, everything changes for Eric and Toby as the events of the past begin to affect their futures, especially when it comes to Walter's beloved country home and who should inherit it. Chance meetings lead to surprising choices as the lives of three generations interlink and collide with explosive results. It's a captivating and thoroughly engaging six and a half hours of being in the presence of such a talented cast of actors, each so dedicated to authentically presenting all the characters required to tell the story, brilliantly directed by Mike Donahue.
The Geffen Playhouse is presenting The Inheritance Parts 1 & 2, based upon the celebrated Stephen Daldry Olivier Award–sweeping London and Tony Award–winning Broadway productions, through Sunday, Nov. 27, on Tuesday – Friday 7:30 p.m. and Saturday – Sunday 1:00 and 7:00 p.m. in the Geffen's Gil Cates Theater at 10886 Le Conte Avenue, Los Angeles 90024. Tickets range from $30 – $129, available by phone at 310.208.2028 or online at www.geffenplayhouse.org. This production contains profanity, depicted sexual situations, nudity, haze and smoke effects, strobe lighting effects, the smoking of herbal cigarettes, and discussions of difficult subject matter including addiction, sex work, abuse, and the AIDS epidemic. Not recommended for those under the age of 16. Children under 6 years of age will not be admitted. Masks must always be worn while indoors.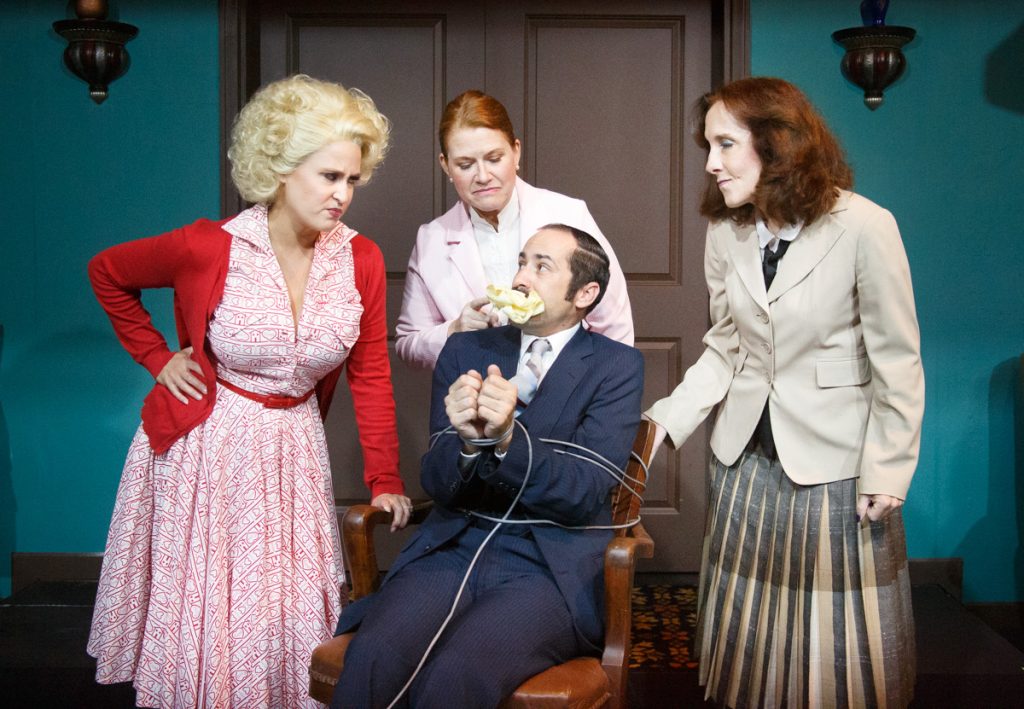 Now for something lighter guaranteed to get you laughing, Kentwood Players proudly presents 9 TO 5 the Musical with Book by Patricia Resnick, Music and Lyrics by Dolly Parton, opening just in time to welcome the holiday season this Friday, Nov. 11 through Saturday, Dec. 10, 2022 on Friday and Saturday at 8 p.m., Saturday and Sunday at 2 p.m. at the Westchester Playhouse, located at 8301 Hindry Avenue, Los Angeles 90045. Please note there are no performances Thanksgiving weekend, November 25 – 27, and the Sunday, December 4 matinee is a private event not open to the public. There is one pay-what-you-want performance on Saturday, November 12 at 2 p.m.
This non-equity, all volunteer production is sponsored by the Collins Law Group, directed by Kirk Larson, with musical direction by Catherine Rahm and choreography by Marie Gleerup, produced by Jeremy Palmer and Bouket Fingerhut for Kentwood Players with rights secured from Music Theatre International. Featured in the cast in alphabetical order are Alison Boole, Amy Coles, Sierra DeSimone, Mark Eggert, Isabella Francisco, Ross G, Sheena Georges, Samuel Goldman, Kelly Gresalfi, Holly Johnson, Charles Keppler, Lauren Martin, Lauryn Muraida, Anastasia Muszynski, Roy Okida, Lyndsay Palmer, Kim Peterson, Brian Pirnat, and Elizabeth Bouton Summerer.
Based on the hit 1980 movie starring Dolly Parton, Jane Fonda, and Lily Tomlin, 9 TO 5 the Musical tells the story about three workmates pushed to a boiling point by their sexist and egotistical boss. Outrageously funny, thought-provoking, and even a little romantic, this musical is about friendship and revenge in the Rolodex era. And remember, long before there was #MeToo, there were Doralee, Violet and Judy as #WeThree!
Tickets are $27 with a $2 discount for seniors and students, or a $5 discount for Metro riders who take the new K Line to Kentwood (exit Westchester/Veterans) and show their TAP card when purchasing a full-price ticket at the box office prior to any performance. Tickets are available online at www.kentwoodplayers.org, by phone at (310) 645-5156, or via email to boxoffice@kentwoodplayers.org. Messages and emails returned to confirm sale. Available tickets will be sold at the box office beginning a half hour prior to each performance. But tickets are selling quickly so it's best to order yours soon!