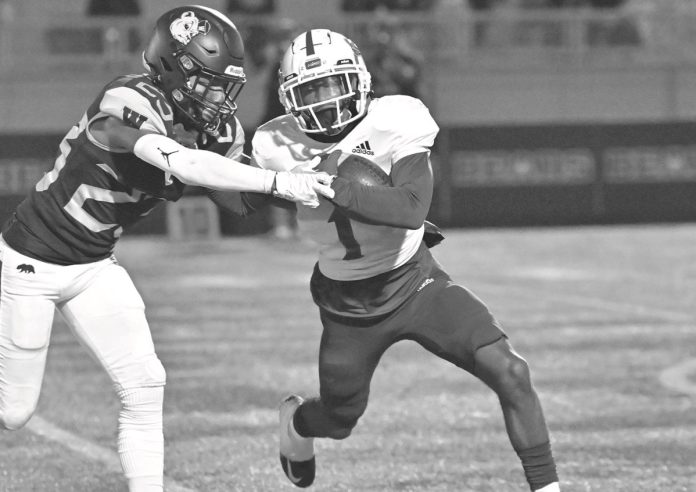 The Culver City high school varsity football team will get a rare opportunity to avenge a loss that took place on Sept. 2. Loyola edged the Centaurs 24- 19 in a game that came down to the wire. On Friday night on the Culver City high campus inside the Jerry Chabola Stadium at 7 p.m., it's the Centaurs and the Cubs facing off in the CIF Division VI quarterfinal playoffs.
Both schools have strong athletic traditions and their football teams come into the game with identical 6-5 records. To reach the quarterfinal game Culver City beat El Dorado 35-24 and Loyola outlasted Lawndale 13-7.
Both teams played in very competitive leagues and both teams appear to be ready for the challenge. Culver City placed third in the Bay league behind Palos Verdes and Mira Costa and Loyola tied for first in the Angelus league with Cathedral and St. Francis.
"We are excited to get a second chance to play Loyola," said Culver City head coach Jahmal Wright last Sunday during a telephone interview. "It's going to be a very tough, hard fought playoff football game. We know each other very well. The schools are in proximity of each other and some of the kids grew up together."
The teams are evenly matched so it should be another close game. "This is a game we really want to win," said Wright. "We thought we let the first one slip away from us. We feel like we are a lot better team now than we were on Sept. 2. We are battle-tested, and we are excited to play them again."
Wright continued to talk about the upcoming game against Loyola. "I think both teams are playing their best football right now. Loyola played in a tough league and now they have been able to get some players back that had been injured. I know they will be a formidable opponent. They are a well-coached team, and they have some very talented players. We have our work cut out for us, but I believe we will be up for the challenge."
The Cubs are led on offense by their 6'4 quarterback, Xavier Rice who has thrown for 1,206 yards and nine touchdowns. The two running backs that they rely on is Jon Bautista who has rushed for 589 yards and Desi Valdes who has 442 yards on the ground.
Against El Dorado on the road last Friday night the Centaurs and the Golden Hawks played a game of give and take. It was a game of runs and momentum swings. The Golden Hawks scored first then the Centaurs scored to tie the game at seven. El Dorado converted a field goal and took a 10-7 half time lead. Culver City scored 20 points in the third quarter to take a 27 to 10 lead. "We played a very good second half," said Wright. "We were able to run the ball and pass the ball."
El Dorado fought back in the fourth quarter when they scored on a 75-yard play. After that play they executed a successful onside kick and they scored again to make the score 27-24 with less than three minutes to go in the game. They tried another on side kick and this time Culver City recovered. After that recovery Centaur quarterback Sammy Silvia hit receiver Myles Singleton over the middle or a touchdown with a minute left in the game and that made the score 33-24. A two-point conversion made the final score 35-24.
Culver City unleashed a very balanced offensive attack. They had 37 passing plays and 32 running plays. They gained a total of 542 yards, 380 passing and 162 yards rushing. Quarterback Silvia completed 26 passes for 380 yards and three touchdowns. He was able to connect with seven different receivers. Myles Singleton caught eight passes for 170 yards and two touchdowns. His brother, Braylon Singleton caught five passes for 94 yards and Mateo Torres was on the receiving end of five passes for 65 yards. Once again, the Centaurs outstanding run- ning back, Maurice Burgess ran for over 100 yards.
"Sammy played well," said Wright. "He did an awesome job and Braylon made a lot of clutch catches and Mateo was our go to third down receiver."
"Our defense has been stellar the whole season," said Wright. "At the beginning of the game against El Dorado the offense was not able to move the ball consistently. That's when our defense stood up and held their ground. They made a lot of tackles for losses. The defensive line and the linebackers did an excellent job."
To beat Loyola on Friday everyone that steps on the field for the Centaurs must be ready to play in front of their home crowd. "I am excited about having a playoff game at Culver City high school," said Wright. "We are excited to get our community out to support us. We are looking forward to seeing our student body, family, friends and alumni. We want to spread the word. Come out and support Culver City Centaur football. You could not write a better Hollywood script."