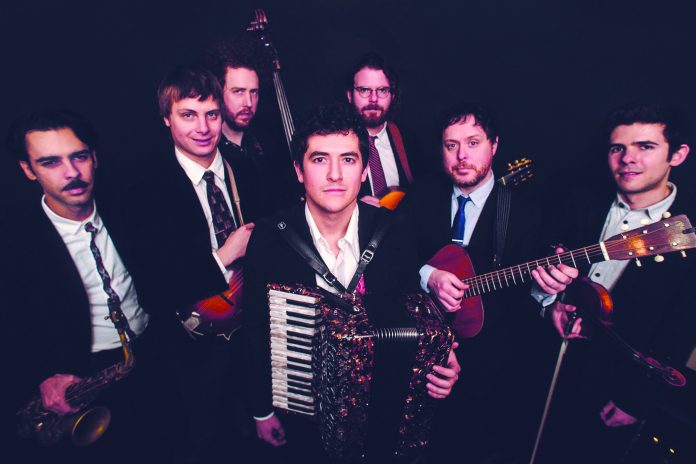 Jazz pianist turned roots musician, Sam Reider is redefining American music on the accordion. He's been featured at Lincoln Center and on NPR, and performed alongside pop stars, jazz and folk musicians around the world ranging from Jon Batiste and Stay Human, to viral YouTube sensation CDZA and T-Pain, Bluegrass mandolin prodigy Sierra Hull to Venezuelan cuatro virtuoso Jorge Glem.
Reider's debut record Too Hot To Sleep presents his unique compositional voice alongside an ensemble of top-drawer musical collaborators and compadres called The Human Hands.
Reider and the Human Hands will perform at Boulevard Music in Culver City Friday, Sept. 21 from 8 to 10 p.m. Tickets are $17.50. Log on at https://www.boulevardmusic.com/events/ for more information.
The News met with Sam Reider and the Q&A is below.
1) I started playing piano was I was 4 years old. Everyone in my family played the piano and my dad was a musical theater composer. Some of my earliest memories are of falling asleep listening to him compose at the piano. I studied classical until I was eleven and then switched to jazz. By the time I had reached high school I knew I wanted to be a professional musician and I started playing gigs in public and meeting other musicians. I went to New York City in college to pursue jazz but ended up falling in love with folk music and picking up the accordion. I loved the way that the instrument was flexible enough and portable enough to be incorporated into many different styles and situations. Over the last ten years, I've explored folk music from all around the world and worked on developing my composition craft. The music that I am now playing is an amalgam of all that exploration, filtered through the accordion and the piano.
2) My influences range from Ellington and Gershwin to Romanian Gypsy band Taraf de Haidouks, to Argentinian accordionist Chango Spasiuk, to Ray Charles and Woody Guthrie.
3) I try hard to resist classification for my music, as much as I know that it's important to be able to describe it to people. I usually say that I'm an accordionist and pianist trained in jazz and classical music and that I've spent a decade traveling around the world working with different types of folk musicians. The instrumentation of my current group includes guitar, mandolin, violin, saxophone, bass, accordion, and piano. Not only are the musicians true virtuosos from the worlds of bluegrass and jazz but together we have a special chemistry and way of improvising collectively that keeps the music fresh and exciting. We don't use charts or music notation. We have played hundreds of gigs together in the small venues and dive bars of Brooklyn for midnight crowds, mixing Gypsy jazz with bluegrass, Bartok with Bob Dylan, Bill Monroe with Brazillian.
4) The Human Hands could have only been born in Brooklyn, New York. About three years ago there was a special confluence of bluegrass and jazz musicians that moved to town. Roy Williams, the guitarist, started playing his cool instrumental compositions at bars and small venues and we all got together to jam with him. None of the gigs paid any money but it didn't matter because Roy had a car and could give us a ride back home at the end of the night. I was having such a good time I got inspired to try my hand at writing some music and out came this record, Too Hot To Sleep. It's music that emerged late at night when I'd get home from a gig with the gang and have melodies still running through my head. Rather than toss and turn in bed, I wrote down these songs.
5) Partly because of the instrument I play and partly because of my taste for adventure, I've accumulated a long list of strange and surreal performance experiences. In 2014 my old band went on tour to Southeast Asia representing the U.S. Department of State as musical ambassadors. Our second show of the tour was in a shanty town outside of Phnom Penh, Cambodia. The concert was to take place in a dirt lot on the outskirts of town. The stage was fit for a giant music festival, flanked by towers of speakers and lights. All day, men on bicycle tuk-tuks, plastered with our faces and sporting loudspeakers drove around town advertising the show—snippets of our songs interspersed with fast Cambodian. When we arrived that evening the stage was lit up from all sides. Green spotlights crisscrossed the sky. Music blared from the speaker array. But there was no audience. Nevertheless, the emcee of the show bade us onstage and as we began to play, the first audience member arrived, riding his motorbike all the way up to the front of the stage. Over the course of the next hour and a half, the audience swelled to a thousand people, mostly on bikes, who arrived and stood silently listening to our music. There was no applause in between songs—ours was the first concert many people had ever seen—and after we played our final note the crowd dispersed as noiselessly as they had arrived.
6) My record "Too Hot To Sleep" was released in February. This is the music that we will be presenting at Boulevard Music and that we are currently touring.
7) I've never before played at Boulevard Music. This is our first time presenting the Human Hands in the Los Angeles area.
8) We have some great stuff coming up in 2019. In particular, I am excited for a concert we are giving in April at the Savannah Music Festival where we will be appearing on a double bill with the great Hungarian violinist Roby Lakatos.
I invite people to check out "Too Hot to Sleep" online. Our music is available on YouTube, Spotify, iTunes and all the other streaming platforms. Additionally, I have a separate Spotify Playlist called "Human Hands" which features many types of folk music and the diverse artists from around the world who inspire us.