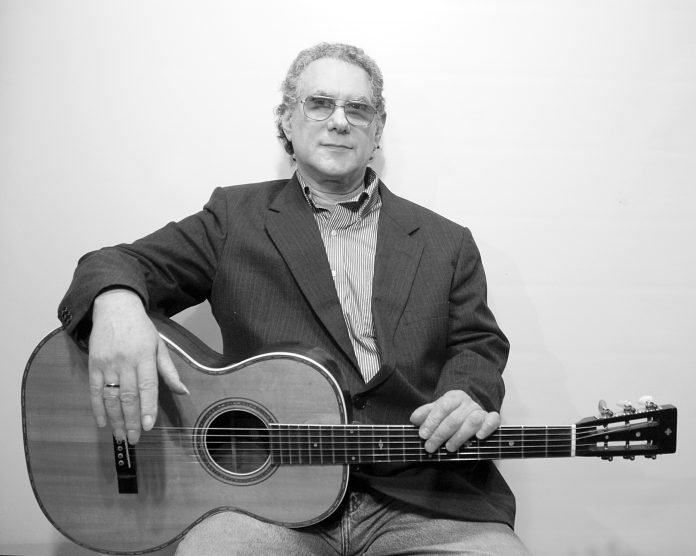 Rick Ruskin is not only a top guitar player but also a singer, composer, and arranger of note. He is known for his many fine compositions such as "Maze Music for Mice," "Six String Conspiracy," and "Kudah Duxx," a track previously featured in Fingerstyle Guitar magazine. He's also known for his arrangements of such pop classics as "Lady Madonna," "Riki Don't Lose That Number," and "Here Comes the Sun."
Ruskin will perform some tunes from his latest CD, "How to be smarter than your guitar."
He along with Roy Book Binder will conduct a fingerstyle guitar workshop featuring blues/ragtime/pop styles from 4 to 6 p.m. at Boulevard Music on the day of the concert.
The duo will perform from 8 to 10 p.m. Saturday, June 1 at Boulevard Music, 4316 Sepulveda Blvd., Culver City. Cost is $20. Call 310-398-2583. Log on at https://www.boulevardmusic.com/event/roy-book-binder-rick-ruskin/
The CC News spoke with Ruskin this week. The following are his comments:
I started playing guitar in 1962 at the age of 14.  I began performing as a
singer at age 9.
Too many influences to name them all.  At the top is Rev. Gary Davis, the
Beatles, Motown, Donald Fagen, George Gershwin.
My style is an amalgam of folk, blues, pop, and R&B.
I'm originally from Detroit but have been based in Seattle, Wash. since 1988.
The local scene there is still quite vibrant.
I have published 2 transcription books of my music and 2 instructional
videos.  Available CDs are all on my label, Lion Dog Music.  Titles are:
Once Upon a Time, Words Fail Me, Perfect Pitch, The Gospel According To,
How To Be Smarter Than Your Guitar, Whatever Happened To Blind Matzoh
Lefkowitz?
I've played Boulevard Music almost every year since 1994.
This upcoming performance will be a mix of old and new songs and
instrumentals.  I'll be sharing the stage with Roy Book Binder, who is
another student of Rev. Gary Davis.  He has kept the traditional blues
flame lit while I have used that tradition as a springboard to a more
modern style.
I'm working on a new and to as much live performing as possible after it's
completion.