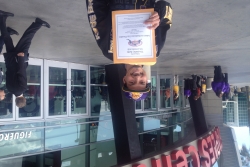 Jonathan Fino stands outside Staples Center, preparing to see the Lakers play the Oklahoma City Thunder.
Fino, an instructional assistant for Culver City Unified School District, won the tickets in a raffle sponsored by the El Rincon Elementary School PTA.
The raffle generated over $1,000 to support the El Rincon learning community.  Fino is a lifelong Laker fan and winning the tickets was "a dream come true" for him.
He is known for his ability to connect with his students and inspire them to achieve their potential.  The Lakers earned a much needed victory.