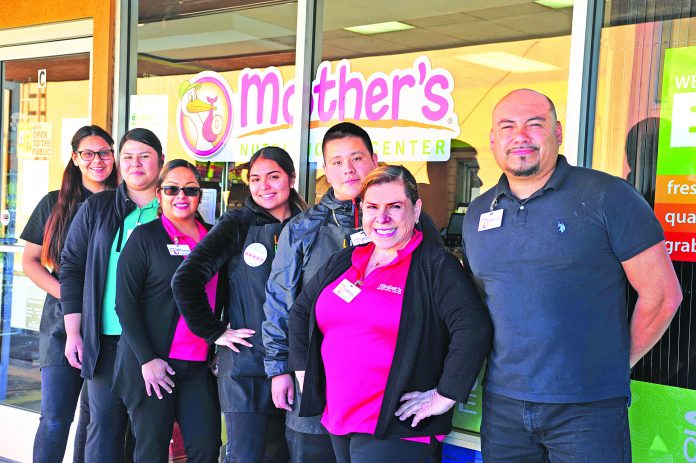 Back in the day, the neighborhood market was a familiar and welcomed sight. Over the generations, most small stores have given way to the big-chain grocers. But, in times of despair, any existing corner markets can be a savior.
Mother's Nutritional Center might have a niche that can satisfy both its regular clients, as well as consumers looking for an alternative to the major grocery chains in desperate times.
Mother's NC (don't be fooled by the name) serves more than just mothers and women with infants. Many of its 80 stores have served the public for more than two decades and are open six days a week (closed on Sundays).
"Most (people) don't know that if you're just looking for a dozen eggs and you don't want to deal with long lines, we can serve your needs," said Gloria Martinez, marketing director of Mother's Nutritional Center.
There are 15 MNC outlets within a 10-mile radius of Culver City, with the closest being the Los Angeles No. 418 store at 3655 Crenshaw Blvd. and the Inglewood No. 614 store at 943 N. La Brea Ave., Inglewood. Both are within four miles of the Culver City borders.
The beauty of the MNC stores is they don't have crowds, long lines and are designed for in-and-out shopping, according to company officials.
"Everything is easily accessible," Martinez said in a phone conversation last week. "Our staff will pull items for you and bring them to the counter while you continue shopping."
MNC officials said the stores generally have an abundance of preferred items for consumers.
"We stock milk, eggs, cheese, cereal, peanut butter, baby food, beans, yogurt and baby wipes," Martinez said. "Some (larger) stores carry diapers. And we don't have meat."
MNC was started with one small store in 1995. In 25 years, the company has grown to 80 stores, covering six counties, from San Fernando Valley to San Diego, Martinez said.
"The (founders) were in the grocery business and opened one store in South Gate, because they saw a need," Martinez said. "They saw people struggling, so the first store was a specialty store for people on the WIC (Special Supplemental Nutrition Program for Women, Infants, and Children) program."
The original store started with products for mothers with infants, but eventually added produce, fresh fruits and other household staples to serve the needs of others at competitive prices
"We get a lot of return business," Martinez said. Others have discovered MNC by word of mouth, or stumble upon a store by chance.
Carmen Lopez, a Gardena mother of a young infant, was shopping at the Gardena Mother's recently and said she was pleased with the variety of products and the ease of shopping.
"I found this place through the WIC and have been shopping here for a few months," Lopez told the Culver City News. "I like (the Mother's NC) because it's clean, they have most of what I need. And I don't have to wait in lines."
Mother's NC posts on its website, that its complying with the Covid-19 outbreak. Hours of operation are Monday to Friday, 9 a.m. to 6 p.m. Saturday, 9 a.m. to 3 p.m. and closed on Sunday.
MNC accepts cash, credit card, debit cards, SNAP, EBT, vouchers and eWIC as forms of payment. Stores carry all eWIC-approved items.
According to the company website:
"MNC has begun to adopt social distancing at all our stores throughout Southern California. Due to this change, we will not be providing carry-outs for our customers. The changes to stores adhering to the 6-foot distance policy is underway and should be completed very soon."
Martinez said that the company is complying with the following safety practices:
• Cleaning commonly used areas more often, including checkout counters, PIN pads, and cleaning shelves when restocking products.
• We are in the process of installing hand sanitizer stations at the entry point to all our store locations.
• We have increased the frequency of our routine cleaning procedures, which includes wiping down shopping carts, baskets and equipment.
• Following best practices for safe food handling, as always.
• We have temporarily removed all the Kid's Corner toy tables from the lobbies of our stores.
• A vast majority of our produce is pre-packaged reducing the chances of contamination from outside factors like over-handling or touching.
The company has a phone app that customers can use to help select grocery. Martinez said most of the company stores have about 10 employees, which would include a store manager and assistant.
For shopping tips during this pandemic, go to Tobie Stanger's article at https://www.consumerreports.org/food-shopping/how-to-protect-yourself-from-coronavirus-when-grocery-shopping/
For more information about Mother's Nutritional Center log on at https://mothersnc.com/