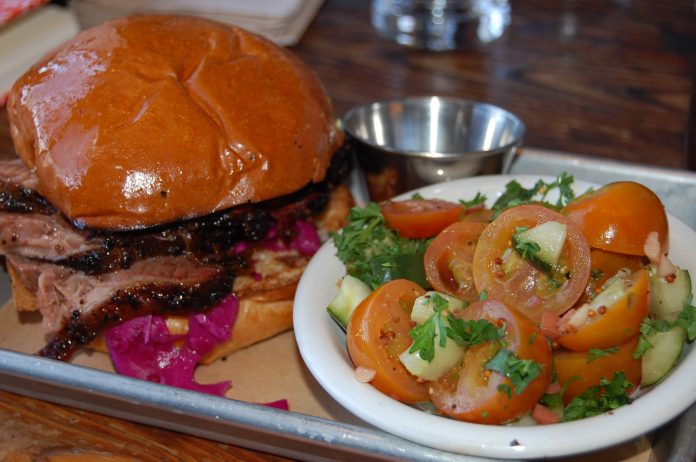 Everything about the Maple Block, located on Sepulveda, screams barbecue. From the wooden sign out front that actually resembles an old chopping block to the font used for the menu, there's a vintage feel to the place that recalls days gone by, quality smokehouses and master butchery.
The wooden tables and exposed brick in the interior only serves to enhance that vibe. There are quality barbecue joints all over Los Angeles and indeed Culver City, but it's these little touches at Maple Block that help it stand out.
We arrived at 11:30 a.m., just as it was opening for lunch. But our almost overly-punctual entrance didn't put off the warm and helpful staff one bit. The meat was apparently prepared well in advance, and there was a full menu to choose from.
We went with a group, so there were plenty of different dishes on the table to enjoy. We had the BBQ Chicken Chopped Salad, which was actually divine. Naturally, the chicken was the star of the show – juicy and smoky, with the slightest of bites. But, contrary to what you might expect from a barbecue restaurant, the rest of the salad wasn't too shabby either. A chopped lettuce and cabbage blend, tossed in a red wine vinaigrette, gave it a fresh slaw flavor – tangy and crunchy. The fresh basil gave it zing, grounded by the chick peas and aromatic parmesan. But it was the sweet peppers and pickles that put it over the edge. The Maple Block makes their own pickles, and they're incredible.
Others in our group ate more traditional barbecue fare. The restaurant offers a "Lunchbox meal – a sandwich filled with a meat of your choice, plus a side and a drink. All of the sandwich options were incredible; both the "old school" chopped pork and "old school" chopped brisket were tender and juicy, and melted in the mouth. Meanwhile, the "old school" smoked sausage was full of flavor and had the perfect snap when biting down.
Meanwhile, the bread was fresh and bouncy, crisped inside. The pimento cheese inside paired wonderfully with the meat. The sides were great too – both the rich mac & cheese, and the creamy potato salad.
The Maple Block also has an impressive and extensive drinks menu, and we found it to be the perfect venue for a group outing.
The Maple Block is located at 3973 Sepulveda Blvd., Culver City 90230. Call 310-313-6328 or visit mapleblockmeat.com.