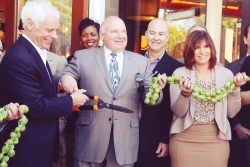 LYFE Kitchen's menu is filled with great-tasting, locally sourced, sustainable ingredients expertly designed by celebrity Chef Art Smith and vegan culinary sensation Tal Ronnen.
The founders of LYFE Kitchen include Mike Roberts, former global president and COO of McDonald's Corporation and Mike Donahue former Chief Communications and External Relations Officer McDonald's USA, and Steve Sidwell, an investment banker.
LYFE, Love Your Food Everyday, is a lifestyle restaurant. LYFE Kitchen combines natural ingredients with sustainable practices and delicious flavor profiles enhanced with spices and herbs to fuel and satisfy.
All dishes are preservative and additive free and contain less than 600 calories and less than 1,000 mg of sodium.  We aim to fulfill the need for delicious food that is convenient, affordable and as important, good for you.
CUTLINE:
BRUSSEL CUTTING— Mike Roberts LYFE, Colette Moore Pridestaff (Chamber Board), Mayor Andy Weissman, Michael Hamill, Chair of the Chamber, Leslie Adler, Execuitve Director CC Education Foundation do the honors of the brussel sprout cutting to welcome LYFE Kitchen to Culver City. Photo by Lori Fusaro